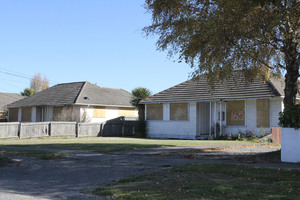 Prisoners are being put to work fixing earthquake-damaged houses in Christchurch.
Corrections Minister Anne Tolley announced today that Rolleston Prison inmates and offenders on community sentences would refurbish 150 Housing New Zealand (HNZ) properties over the next five years.
The first 42 HNZ houses will be moved out of the red zone and on to prison grounds for repairs and refurbishment next month.
HNZ's chief executive Glen Sowry said red-zoned houses would be given priority.
Once they've been fixed up, they'll be moved to new sites, he said.
A similar initiative has been operating at Spring Hill Prison in Waikato for several years and the outcome had been "excellent", Mr Sowry said.
Ms Tolley said the programme allows offenders to contribute to the rebuild while gaining valuable construction skills such as carpentry, plastering, painting and decorating, roofing and joinery, and employment training.
"We know that prisoners in employment are less likely to reoffend, so if we give them access to training, education, and drug and alcohol rehabilitation while inside the wire, we can help steer them away from crime, and ensure they don't create more victims upon release," she said.
"This agreement with HNZ will give hundreds of prisoners and community offenders the opportunity to have pride in their work and to turn their lives around."
Work on construction yards is due to be completed in August, with separate yards for community offenders and sentenced prisoners.
The initiative is part of a wider programme by HNZ in Christchurch, which includes the building of 700 new homes and the substantive repair of 5000 more by the end of 2015.
- APNZ