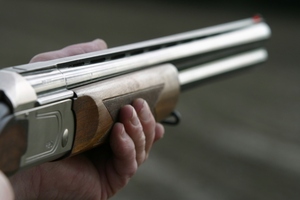 A Central Hawkes Bay man pointed a loaded shotgun at his partner's eight-year-old son to get him off the computer before firing a round into the screen, a court has heard.
Geoffrey John Buckley, 35, went on trial today in Napier District Court facing three charges of reckless use of a firearm.
The Crown alleges that Buckley pointed the loaded gun at his partner's son to try to stop him using the computer.
He then fired a round into the screen.
The boy was eight at the time.
The two other charges relate to incidents in which the Crown alleges he fired a rifle which narrowly missed his partner's head and shot his partner in the leg with an airgun.
The alleged incidents took place between 2007 and 2008.
Buckley's ex-partner appeared in court today and said Buckley discharged the firearm after telling her son to stop playing on the computer and come to dinner.
She said the boy backed away from the computer after Buckley entered the room carrying the shotgun which a few seconds later discharged.
The bullet went through the corner of the computer screen and a window behind it, shattering the glass and the window frame.
The trial continues today.
For more articles from this region, go to Hawkes Bay Today