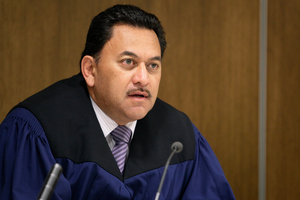 Well-known Coroner Gordon Matenga is recovering from serious heart surgery after collapsing while refereeing a rugby game.
The 50-year-old Hamilton coroner is said to be recovering well after his shock collapse two weeks ago.
It is understood Mr Matenga suffered a heart attack as he refereed a rugby match in Waikato.
"He's had major cardiac surgery which progressed well, he's been discharged from hospital and is recovering," Chief Coroner Judge Neil MacLean said today.
It is not known how long Mr Matenga will need to fully recuperate.
Other coroners from around the country are being drafted in to help cover his cases in the meantime.
Coroner MacLean said he would also be spending more time in the Hamilton office to help staff cope with the workload.
He said staff were "obviously pretty devastated" by the serious health scare.
A Mormon church elder, Mr Matenga has been married for 26 years, and has four children and two grandchildren
His family were said to be coping "as you would expect".
"Fortunately, he has a very supportive family," said Judge MacLean. "I believe they are coping, managing, but I don't like to intrude."
Mr Matenga was the coroner who heard the inquests for victims of the Canterbury earthquakes. His report into the deaths has yet to be published, and it is not known when that is likely to be.
He has come under fire in the past for his views on gay marriage after it was revealed he entered a submission to the Select Committee on the Marriage Amendment Bill opposing the law change.
He attacked gay marriage as an unnecessary "social experiment".
Mr Matenga also declined to open an inquest into the death of Corporal Douglas Hughes, 26, who took his own life in Afghanistan.
Mr Matenga has been a coroner since 1996, and was appointed as a full-time coroner under new legislation in 2007. He identifies as Ngati Kahungunu, Rongomaiwaihine, Ngati Porou and Ngai Tahu.
- APNZ