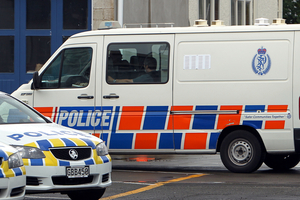 A man who threatened to hunt a female police officer down, rape her, and run her over with a car has been sent to prison.
Constable Michelle Clark told Masterton District Court yesterday that as a police officer, she tolerated a lot of abuse but did not expect to be threatened with such "violent behaviour" and that she did not feel safe dealing with the prisoner afterwards.
Campbell Preston Thomas, 33, was sentenced yesterday to three months in prison for threatening grievous bodily harm.
Prosecuting Sergeant Gary Wilson told the court Thomas was being escorted to Rimutaka Prison in a police van when the incident occurred in November last year.
Mr Wilson said that while on the road Thomas made continuous sexualised comments to Ms Clark during the escort.
Ms Clark said Thomas was placed in a compartment directly behind her.
"Pretty much from the word go he began making sexual comments. He was saying things like calling me a filthy slut ... things similar to that effect. These sort of things carried on for the next 20 or 30 minutes," Ms Clark said.
She said that when they got near Featherston his tone changed and he became frustrated and angry.
"Right after that he said to me, after he gets out, he is going to hunt me down, get a car, and run me over and rape me."
Ms Clark said that once they arrived at the prison she did not deal with Thomas, as she did not feel safe.
Defence lawyer Jock Blathwayt said Ms Clark did not know how many prisoners were in the back and did not know who was talking.
Thomas denied making the comments to Ms Clark.
Judge Bill Hastings said he found Ms Clark's version of the events more credible than Thomas'.
For more articles from this region, go to Wairarapa Times-Age