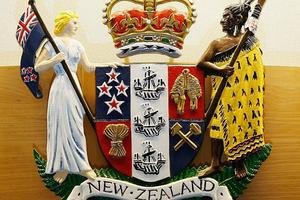 A prolonged and cruel Valentine's Day attack on a Dunedin man has ended in jail for two of his friends - the offenders.
Craig William Crawford, 53, and Raymond Brent Anderson, 47, were sentenced to three years and three months' jail and two years and 11 months' jail respectively by Judge Michael Crosbie in the Dunedin District Court yesterday.
Both admitted and were convicted of a joint charge of wounding with reckless disregard.
Anderson and Crawford were drunk when they attacked a friend at Crawford's Dunedin home about 3pm on February 14.
They suggested the victim had acted inappropriately towards another friend's wife, prompting the assault.
In court yesterday, Anderson told the judge his childhood was tainted when his mother cheated on his father and they separated, which in hindsight had a bearing on his attitude towards the victim.
Anderson said he knew the attack was "horrible" and "stupid".
The victim went to Crawford's home, where he was verbally abused by Crawford and knocked to the ground by Anderson.
Both repeatedly kicked and punched him as he lay curled on the ground, trying to shield his torso and head.
Anderson took a bank card and money from the victim's pockets, discarded them and continued to kick and punch him as he tried to get up.
The prisoners briefly left the victim, who staggered to his feet and left the address.
Anderson and Crawford chased him and resumed their attack, kicking and punching him in a "frenzied" manner, Judge Crosbie said.
When spoken to by police Anderson initially declined to comment, and Crawford denied his involvement but said the victim deserved the beating.
The victim had a collapsed lung, five broken ribs and cuts and bruises to his face.
He was on painkillers for two months, had eyesight problems and lost about $8000 in wages because his injuries prevented him from working, Crown counsel Craig Power said.
Mr Power said Anderson and Crawford should both be jailed for the prolonged and serious assault.
Counsel Anne Stevens said Anderson had sought treatment for alcoholism and was remorseful.
He had one previous conviction for violent offending more than 20 years ago, was not a risk to others, helped out in the community and was suitable for home detention, Mrs Stevens said.
Public defender Andrew Dawson said Crawford was also remorseful and wanted to contact the victim because they were "long-standing friends".
Judge Crosbie said neither prisoner was a stranger to the court and on the day the attack was unprovoked, comprising "cruel, drawn-out and serious violence".
Crawford had four convictions for violent offending in the last five years, the most recent of which brought a sentence of supervision in January.
"This was a case of extreme violence, there were opportunities for you both to withdraw and I find the latter part of the assault particularly extreme and cruel. It has been an agonising couple of months for the victim, physically and emotionally," Judge Crosbie said.