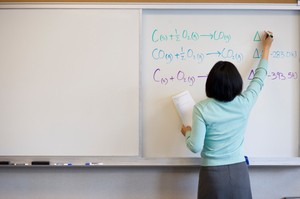 A teacher convicted of fraud after lying to Housing New Zealand over how much she earned, so she could get a $27,000 discount on her rent, will be allowed back in the classroom after a six-month suspension.
The teacher, who has name suppression, was not struck off the teaching register for her two-year scam, despite teachers with similar indiscretions being banned. A new judgement out from the Teachers' Council has explained why she will be allowed to teach again.
Its Disciplinary Tribunal accepted that the woman was under extreme pressures at home when she lied to Housing New Zealand over her income so she could get cheaper rent.
She had been caring for her own young son, a terminally-ill mother-in-law, an elderly, physically disabled aunt as well as her own 82-year-old mother.
Things got even worse for the teacher when her mum - who moved in with her in 2006 after her husband, the teacher's dad, died - had an extension to her visa declined, and she was forced to move back to Samoa.
In May 2011, the teacher's school principal reported her to the Teachers Council over possible serious misconduct.
The following month, the teacher, through her union, the PPTA, informed the council of her convictions.
In 2008 and 2009, she deliberately failed to declare all income earned by her so she could pay a lower rent than she was entitled to. She received a $27,000 discount.
A district court judge sentenced her to 400 hours of community work and ordered her to pay the money back.
Her union said she "felt under immense pressure about her family responsibilities, which can be huge for a Samoan woman".
"The most difficult of these for her were to do with her own mother's inability to stay in New Zealand, which [the teacher] feels largely responsible for," the union told the tribunal.
"Her responsibility to help all three women lay very heavily on [the teacher], to the extent that she felt quite desperate about her financial ability to adequately provide for them. This was the root cause of her offending over the relevant period of time."
She is remorseful, apologetic and repentant, the union said, while she has already started paying back the money at $100 per fortnight, and is doing her community work through her local church.
The Complaints Assessment Committee of the New Zealand Teachers Council submitted that the teacher could be rehabilitated.
The disciplinary tribunal said it was a serious case, and has in the past "on a number of occasions deregistered teachers who have been convicted on similar types of charges".
But it took into account her personal circumstances and felt her remorse was genuine.
It suspended her practising certificate for six months, from February this year, and imposed a condition that for the next three years she must notify all future employees about her criminal history and the tribunal's decision.
- APNZ