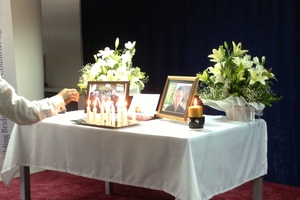 A school in Turkey has created an award in honour of a New Zealand teacher.
Dr Jan Borgdorff was living and teaching chemistry in Izmir, Turkey, when he died from a heart attack last month.
MEF International School, where Dr Jan Borgdorff had been teaching for five years, is to present a student with a science award in his name at this year's award assembly tomorrow.
John Potter, the school's principal, told the Herald Dr Borgdorff was one of the school's finest teachers.
"He made chemistry, a subject that is quite difficult, accessible and interesting for his students."
The school had several students for whom English was their second language. Mr Potter said one of Dr Borgdorff's "greatest skills" was assisting these students.
Dr Borgdorff's Wellington-based brother Dick Borgdorff described him as a "real live-wire and people person" who combined his love for teaching and travel.
"I think it was the real love of his life, just in terms of the cultural experiences and ability to travel and learn new languages."
The 57-year-old's death on May 29 came as a shock to his family and colleagues. He had been unwell in the days leading up to his death and Mr Borgdorff wondered if his brother mistook the signs as a bout of asthma, which he had suffered from.
"What he may have thought was a light dose of asthma may have been a couple of early heart attacks."
Dr Borgdorff gained a PhD in chemistry from Otago University and worked in Australia for a pharmaceutical company but he didn't last there long.
"Basically he was disgusted they weren't interested with excellence, just a quick profit."
But that proved the turning point in his career and he "discovered his real gift" and switched to teaching, initially at Onslow College, in Wellington, and then overseas from Brixton, in England, to Holland and then Poland.
He then spent about 15 years in Egypt.
When he wasn't teaching, Dr Borgdorff would be exploring parts of the world he hadn't been to.
"Some of the feedback we got from his friends were the crazy places - not bizarre, just out of the way places ... he was happy exploring, seeing new things and meeting new people."