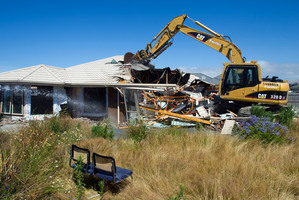 Christchurch City Council has been given a fortnight to speed up its consenting process, or power to grant consents will be taken away from it.
Earthquake Recovery Minister Gerry Brownlee says the time has come for the Government to take urgent action to address the city council's ``repeated inability'' to meet statutory timeframes for processing building consents.
The drastic measure comes after the council was sent a letter from International Accreditation New Zealand (IANZ) on May 30.
It gives the council until June 28 to improve consenting processes or lose accreditation as a building consent authority.
"This is to say at the very least alarming and, in the circumstances of the massive rebuild we face in Christchurch, a crisis point,'' Mr Brownlee says.
"For some time now we've had grave concerns about consenting processes at the Christchurch City Council.
"When I've asked for information about that in recent months, I've been assured things were changing, and improving.''
Because of the Government's concerns, it had the Ministry of Business, Innovation and Employment involved on a number of occasions since February 10, 2010 in trying to assist Christchurch City Council to improve and speed up its building consent processes.
Mr Brownlee said the Government had provided considerable support and advice, but "still the council has failed to adequately address its systems, resources and improve the culture'' of its consenting staff.
As a result, Mr Brownlee and Building and Construction Minister Maurice Williamson are now working on a contingency plan for implementation ahead of the IANZ deadline of June 28 for a decision to be made on whether the council maintains its building consent authority accreditation.
The council received an average of 35 building applications a day in March and April, according to the agenda from this month's planning committee meeting; a workload which led council officers to report: "We have seen backlogs develop across all process steps - from pre-processing initial data entry through processing and into typing. The sheer volume exceeds capacity, and applicants are expressing a significant level of concern at this.''
Mr Brownlee said: "The council knew this workload was coming and hasn't adequately addressed it.
``We can't let that continue, and will be discussing the Government's approach with councillors soon.''
- APNZ