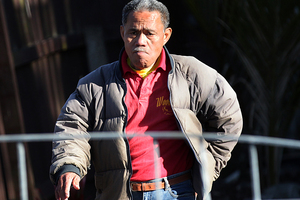 An argument at a bus stop between two retirees ended with one of them attacking the other with a crowbar.
Emanu Toafiga, 62, pleaded guilty in the High Court at Auckland to causing grievous bodily harm with intent to his 78-year-old neighbour Leslie Otto.
The court heard how the pair had been living in pensioner flats in the Auckland suburb of Waterview.
There had been bad blood between them, and on a day in April last year they had an argument at the bus stop.
According to the police summary of facts read in court, Toafiga and Mr Otto had both been at the shops and were waiting at the same bus stop when Toafiga abused Mr Otto.
Police said Mr Otto kept quiet, but later that afternoon things got ugly.
Mr Otto took a crowbar and went to Toafiga's flat where he yelled a threatening, racist comment before raising the crowbar to hit his neighbour, the court heard.
Toafiga grabbed the crowbar before Mr Otto hit him and managed to punch Mr Otto in the face.
Mr Otto fell down and Toafiga hit him with the crowbar three times on his body, the court heard.
When neighbours stepped in, Toafiga threw the crowbar onto the ground.
One neighbour reportedly said: ``You're stupid, you could kill him'''.
Toafiga replied: ``I don't care''. He demanded the crowbar back and told a group of onlookers: ``I want to kill him,'' the summary of facts stated.
Mr Otto was taken to hospital and was found to have fractured ribs and a broken arm. He died nine days later.
Originally Toafiga had been charged with manslaughter but pathologists for the Crown could not be certain that Mr Otto had died as a direct result of the crowbar attack.
Mr Otto was also found to have been suffering from pneumonia, Alzheimers Disease and emphysema.
Toafiga's lawyer Steve Cullen said his client was deeply sorry for what he had done, and was not seeking bail.
Justice Timothy Brewer remanded Toafiga in prison until he is sentenced next month.
- APNZ