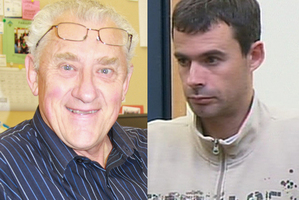 A Northland school principal who took no action against paedophile teacher James Parker, despite police raising serious concerns about the teacher's sleepovers with young boys, has failed to get his job back.
A scathing Employment Relations Authority determination has found Pamapuria School principal Stephen Hovell was rightly sacked for failing to ensure the safety of students at the Far North school.
Mr Hovell was dismissed in February after an investigation found he did not take appropriate action when concerns were first raised about Parker, his deputy principal.
Parker is awaiting sentencing on a raft of sex abuse charges, laid last year, relating to sleepovers with boys at his Awanui farm.
The employment investigation found Mr Hovell sought to protect his deputy principal, rather than his students, at the time of the initial police complaint in 2009.
The complainant withdrew the allegation, but Kaitaia police nonetheless wrote to the school to express concerns about Parker's behaviour.
In the letter, Detective Dean Gorrie said it became "abundantly clear" during his investigation that Parker had been inviting students over to his house for sleepovers on a regular basis.
"In my view it is clearly inappropriate for a school teacher to invite young children to their residence, outside of school hours, and have them sleeping over, and I would suggest that this practice must stop immediately, and protocols be initiated to discourage them from occurring in the future."
However, Mr Hovell withheld that part of letter from the school's board. He said he asked Parker to stop having sleepovers, but kept no record of the conversation and failed to formally censure him.
The investigation also found Mr Hovell did nothing to manage the return to school of students who complained about Parker.
Mr Hovell also did nothing to monitor Parker's activity after he returned to school following a period of leave during the police investigation.
He told the investigation he did not know the sleepovers were continuing - despite evidence from teachers and parents that Parker was "driving around town with boys" and even leaving school with them.
ERA member James Chrichton said it "strains credibility to breaking point" for Mr Hovell to claim no knowledge the sleepovers were continuing.
He found the school was right to dismiss Mr Hovell and he should not be reinstated.
Mr Chrichton noted it was not right for Mr Hovell to "wash his hands of responsibility" of dealing with the matter.
Mr Hovell did not fully inform the board, did not seek outside advice, and undertook no monitoring of Parker, he said.
"That last mentioned failure, the failure to monitor, ultimately led inexorably to further abuse of these young people, abuse which could so easily have been avoided by Mr Howell taking some very straightforward steps to ensure his instructions were being followed."
School commissioner Larry Forbes, who was appointed after the board resigned over the charges against Parker, said the ERA decision would allow the school to move forward.
"It's been in a state of limbo to some extent because of the unknowns around the leadership of the school in the future. So having that decision now means that we can proceed with appointing a new principal and get some stability in that area."
Mr Forbes said a preferred candidate for the position would be interviewed tonight, and a decision on Mr Hovell's replacement would be made by the end of the week.
The new principal would likely start at the beginning of the third term, six weeks from now.
- APNZ