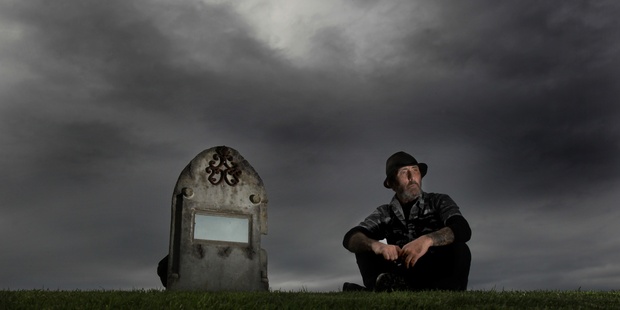 A recovering cancer sufferer has crafted his own tombstone complete with inlaid mirror to check himself out from the great beyond.
Matua resident Grant Wilson was diagnosed with skin cancer seven years ago but it was not until he was laid off work with a serious back injury that he put his concreting skills to an alternative use.
"Basically I thought I was going to die at the time, which turned out to be wrong, thank God. It was just a way of dealing with things. I was getting pretty bored being sick," said the 51-year-old who had worked in construction since leaving school at 18.
Mr Wilson said he always tried to look at the lighter side of life, and death.
"I put a mirror on it, so when you lay down with your feet against it and lift your head up you can see yourself."
He had also searched for a suitable inscription. "I had all sorts of ideas but liked, 'Bugger', 'Full' or 'No Exit'," said Mr Wilson, who has had four operations to remove cancerous growths from his face. He is now in remission.
"You have to see the positives, we concentrate too much on the serious side of life.
"Having visited the cemetery I didn't like the way there were just little plaques for people. I didn't want to be remembered like that.
"Also, the expense of getting tombstones made is incredible."
The "mirrored" monument is 70cm high by 40cm wide. Mr Wilson liked it so much he has since made another, bigger, gravestone. He said he might donate them to be auctioned off for charity.
Reactions to the grave markers had been mixed, Mr Wilson said.
"Some people are scared of it, they don't want to look into the mirror. Others are baffled by it."
He hoped he would not be needing them for a very long time. "Yep, I'm all good right now so hopefully I'm not going to need them for many, many years yet. They are surplus to requirements."
Saturday's Bay of Plenty Times Weekend revealed a group of Tauranga residents had formed a club, called the University of the Third Age's Bucket Group, building their own coffins.
Nearly 50 Tauranga men and women have assembled their funeral caskets since the Bucket Group began three years ago.
For more articles from this region, go to Bay of Plenty Times