Eye surgeon joins team of volunteers training local doctors for paediatric work.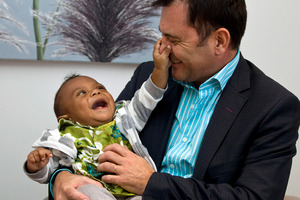 The volunteer work of a Kiwi eye surgeon will change the lives of Cambodian children, who will go blind without treatment for their eye conditions.
Auckland paediatric opthalmologist Dr Justin Mora will be the first of 12 Australasian surgeons to set up a children's eye clinic and train local doctors in Phnom Penh during the next year - a service that is virtually non-existent in the third world country.
"There's no paediatric opthalmology in Southeast Asia," he said. "The training is very much in general adult stuff, there is no specific training for looking after children's problems and the programme is trying to get that established in that part of the world."
Dr Mora's voluntary contribution is funded by the Australian-based Sight for All Foundation. He will work with the Cambodia Ministry of Health and local doctors to establish a specialist clinic there.
A clinic with one doctor could treat up to 200 children a week, Dr Mora said.
"The key thing about working in paediatrics is you're making a difference that's going to last a lifetime. Taking a child that would potentially not have sight and giving them sight is more important in places like that because support services are pretty limited."
Dr Mora, who has worked at Auckland Eye for 17 years, said each doctor will spend a week in the country in a "teach a man to fish, and feed him for a lifetime" approach.
"By helping the local surgeons to set up a service focused on children's eye health, we will leave a long-term legacy which could improve the daily lives of thousands of children.
"The lack of the right eye care equipment and knowledge in highly-populated poorer countries means that over half of the world's blind live in the Asia-Pacific region. In preventable cases, this means that an eye problem has not been diagnosed at its infancy."
By establishing a group of core professionals who specialise in paediatrics these impairments, he said, can be tackled before they infiltrate into individuals' adult lives.
Dr Mora leaves for Cambodia on June 29.