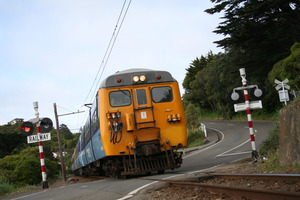 A wheelchair-bound rail passenger and her visually impaired companion were stranded on the wheelchair ramp leaving the carriage as the Capital Connection pulled away from a Kapiti Coast station yesterday.
KiwiRail's general manager for passenger services Deborah Hume confirmed the incident happened yesterday morning as the couple were trying to disembark at the Waikanae station.
The couple were in the last carriage on the train, and as they were leaving the train began its journey with the doors open and the ramp still on the platform.
A rail staff member who was helping the couple immediately pressed the emergency stop button, which stopped the train, Ms Hume said.
"Then the people got off and made their way safely to the platform."
An investigation had been launched into the incident, she said.
"That's not normal. ... We'll need to understand exactly how that happened to stop that happening again," she said.
"Moving trains with doors open is not okay in any circumstance."
The company's policy for when trains leave stations was for the train manager to get off the train to ensure passengers had boarded or left the train safely, and any ramp that had been used was inside before giving the signal for the train to move, Ms Hume said.
"Reports are that that's what this train manager did do, but didn't see that the ramp was still extended."
Ms Hume said she had spoken with the woman involved in the incident.
"I don't think she's feeling particularly relaxed and I think she's had a couple of twinges."
Ms Hume wanted witnesses to the incident to come forward if they had not already been spoken with.
Disciplinary action against the train manager would depend on the results of the investigation, she said.
"Both people involved were very experienced."
Yesterday's train incident was the second involving wheelchair-bound people in recent months.
In February, a 22-year-old woman suffered critical injuries when her chair became stuck on the tracks at Auckland's Morningside Drive.
Her life was saved by a jogger and a commuter who risked their lives to push her wheelchair almost out of the train's path.
The woman's chair was caught by the front of the train and she was dragged five metres along the track.
Ms Hume said the company carried a number of people who used wheelchairs because of the facilities they were able to offer them.
"We take all safety concerns seriously."
She said had yesterday's incident not surfaced in the media a public statement about operational issues would not have been made available.
* Do you have any more information? Email us here.
- APNZ