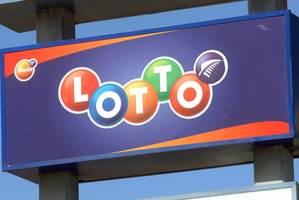 The Tauranga woman who bought a winning $9.85 million Lotto Powerball ticket on a whim hid it in a locked tin box in a wardrobe before claiming the prize.
The woman took the security precautions after realising on Saturday night she had scooped the big win.
She provided some information about herself yesterday after coming forward but did not want to be identified.
A confessed Absolutely Fabulous fan, she planned to celebrate by taking close friends to "dinner at a nice restaurant".
"I'll definitely be looking after the bill," she said in answers supplied to the Bay of Plenty Times.
The woman, who would not reveal her age or occupation, claimed the prize in person at the New Zealand Lotteries Commission office in Wellington yesterday after keeping the ticket secure.
"I locked it in a tin box with a padlock and hid it in a wardrobe. I was quite sure it would be safe in there.
I only had to check on it once."
The woman said she had never been rich but "always comfortable". People described her as humble, friendly, kind and caring, she said.
"I really enjoy sewing, travel, cooking and doing fitness activities. I'm also a massive fan of Absolutely Fabulous."
She decided to buy the Triple Dip ticket from Mount Paper Power at Central Parade on a whim: "I was just passing by the shop and randomly thought I'd give it a go."
The woman was cooking dinner on Saturday night and took a break to check the draw results on her phone - and found she had won.
"I had to check quite a few times because I couldn't believe it was actually happening. When I realised I had won, I suddenly lost my appetite," she said.
"I phoned my brother to tell him the news and he replied, 'I never thought I would ever have the chance to say my sister is a multi-millionaire'."
The woman said the win was beginning to "sink in now". She planned to build her dream house in Tauranga, upgrade her car and travel.
She declined to say what line of work she was in but said she was considering giving it up.
"I might give up work, I haven't decided yet. But whatever happens, I won't let this win change me. It will just be lovely to not have to worry about money and to spend more time with my family."
Mount Paper Power owner Tere Crookes told the Bay of Plenty Times the store had been abuzz about the win yesterday.
"There have been lots of congratulations and people checking their tickets to see if it was them," she said. "It's just amazing."
Another Tauranga Lotto player won $479,069 on Saturday in Lotto Strike.
For more articles from this region, go to Bay of Plenty Times