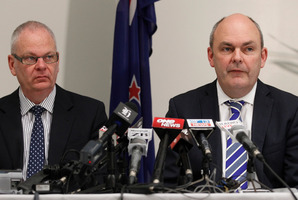 Minister Responsible for Novopay Steven Joyce confirmed Education Ministry staff member Anne Jackson, who resigned today, had been one of two senior staff being investigated by the ministry.
Last week, following the release of a Ministerial Inquiry, Acting Education Secretary Peter Hughes said two senior staff members would be investigated.
Mr Joyce said after Ms Jackson's resignation that not all of the responsibility for the Novopay failures could rest on her shoulders.
"A number of entities and people have fallen short of what's required, but I certainly respect the fact that she's decided that it's an appropriate course of action for her to take."
No decision had been made on the second person being investigated at the ministry, Mr Joyce said.
Ms Jackson's resignation follows a report on Novopay that found Cabinet ministers who signed off on Novopay received misleading information from officials.
Ms Jackson was the tertiary, international and system performance deputy secretary, and was formerly schooling deputy secretary.
"The report identifies shortcomings in areas for which I was responsible as deputy secretary of schooling, a position I held until July 2012. As a result, I have decided to tender my resignation.
"I hope my resignation will help the ministry put the Novopay issues behind it. I am truly sorry for the extra pressure and stress put on teachers, staff and pay administrators during its introduction," Ms Jackson said in a statement.
She said the decision to resign was hers alone, and there was no pressure put on her.
"I remain deeply committed to education and the principles of public service. That is why I have taken this step today."
Acting Secretary for Education Peter Hughes said Ms Jackson had made an outstanding contribution to the public service over the past 25 years, particularly in education.
Ms Jackson was previously schooling deputy secretary responsible for curriculum, assessment, teacher employment, industrial relations, schooling funding and school infrastructure.
She was originally from England, and started at the ministry in 2005 as senior manager for tertiary education outcomes and strategy group.
She has also been general manager of the Centre for Social Research and Evaluation at the Ministry of Social Development, manager of strategic projects at the Education Review Office, and an education adviser with the Department of Prime Minister and Cabinet.
The June 5, 2012 paper to ministers was sent by the ministry's chief information officer Leanne Gibson and recommended the project should proceed as planned, but said there were 147 defects which had not been solved.
Despite the two staff being in the firing line, a memo in April last year showed the ministry considered dumping the troubled payroll system.
The confidential memo, again from Ms Gibson, sent to Anne Jackson, gave detailed problems with the development of Novopay, and recommended options including terminating elements of provider Talent2's contract and moving to a hybrid system incorporating Novopay and the previous Datacom system.
Ms Jackson's resignation follows that of former Secretary for Education Lesley Longstone as a result of a poor working relationship with Education Minister Hekia Parata.
- APNZ