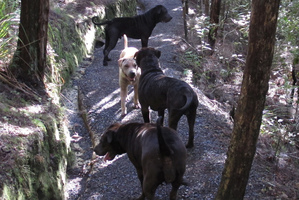 Dog owners are being urged to keep their pets out of kiwi zones after four dogs were seen wandering inside Opua Forest in Northland.
The Advocate saw the dogs - two male, two female, all without collars and apparently unregistered - well inside the forest on Sunday afternoon. They were about 1km up a track from School Rd in Paihia to a lookout point.
Craig Salmon, of the conservation group Bay Bush Action, said owners needed to make sure they knew where their dogs were at all times and not just let them off the lead for exercise.
"If they're roaming the bush in a pack, we'd be really, really concerned - especially with kiwi already on their last legs, and all the effort we're putting into pest control in Opua Forest."
In 1987 a single dog lost in Waitangi Forest for six weeks killed more than 500 kiwi, Mr Salmon said.
Kiwi don't have a breast bone, which makes them particularly susceptible to a dog bite, even if the dog does not intend to cause harm.
The Department of Conservation's Bay of Islands area manager, Rolien Elliot, said dogs were the number one killer of kiwi in the north.
The sighting comes as the Far North District Council prepares a crackdown on unregistered dogs.
Monitoring manager Barry Webb said allowing a dog to wander unsupervised in a public place was an offence under the council's Animal Control Bylaw.
Animal control officers would carry out a door-to-door check in the School Rd area to see if anyone knew the dogs' owners. If located, they would be required to register the dogs, if they were not already, and asked why they were not wearing collars or tags.
The council was planning to check for unregistered dogs after the July-August dog registration period by visiting properties with previously registered dogs as well as properties where dogs have been seen but not registered.
DoC and the council urged anyone who saw roaming dogs to call the council's dog ranger on 0800 920 029 or (09) 401 5200 from cellphones or outside the district.
For more articles from this region, go to Northern Advocate