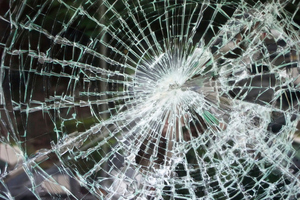 A 7-year-old pupil armed with scissors went on a window-smashing spree, causing a lock-down at a Northland school.
It is believed the boy, a student at Mangakahia Area School, became upset in class and smashed a number of windows.
Principal Jacqui Tyrrell said the school, with a roll of around 130, was forced into lock-down during the incident.
She said staff followed protocol for any situations where the safety of students and staff were at risk and called police.
"When there is concern for safety it is a 'better safe than sorry' situation.
"We were dealing with broken windows and broken glass," she said.
No one was injured.
Northland police communications manager Sarah Kennett said the issue was resolved between teachers and the boy by the time police arrived.
She said the boy was returned to his caregivers, and there would be ongoing discussions between the school and the caregivers about his future at the school.
Ms Tyrrell said the boy was new to the school.
She would not comment on whether he had lashed out before at the school.
A counsellor would be brought to the school for students to talk to.
The case comes after Northland principals raised concerns in recent weeks over increasing numbers of violent students in schools and a lack of resources to deal with them.
Hora Hora Principal and Tai Tokerau Principals' Association president Pat Newman recently voiced his frustration with the lack of resources to deal with a violent 6-year-old at his school.
Mr Newman said the Gateway programme, which is designed to provide wrap-around resources such as social workers and child psychologists for troubled youngsters, was not doing enough to help schools deal with children like this.
"It's another case of 'Let's have meetings, let's write endless observational notes', but nothing actually happens," he said.
Police were also called to Tikipunga High School on May 28 after a 14-year-old student became aggressive and staff at the school needed assistance to subdue the teen.
Principal Peter Garelja said it was out of character for the student.
For more articles from this region, go to Northern Advocate