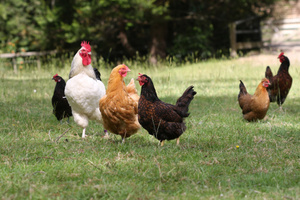 Hawke's Bay residents who keep chickens on their residential properties are unaware of the health hazards they are presenting, says a Havelock North resident.
The unnamed resident said hundreds of properties in the Hastings and Hawke's Bay region had illegal domestic chickens on their property in an attempt to be in with the eco trend.
"The irony is children are walking home from school through chicken faeces and are being fed bad diets while their parents think keeping chooks at home close to the house is a natural way of getting organic fresh eggs. Their other pets are also walking through their effluent causing illness to dogs and cats."
Garden advocate and author of Green Urban Living Janet Luke feeds her family primarily from their half-acre Havelock North garden and said she had never had any problems with her backyard animals.
"We kept a dairy goat, as a family we were doing a experiment to see if we could live solely out of our backyard," she said. "We made cheese and fresh milk and obviously the chickens gave us fresh eggs and I set them up in a way so they would do all the gardening for me.
"We found that we could live from our backyard but that it would take a lot of work and time in the kitchen but we used to barter with friends for things we couldn't grow like flour and wine."
A vet at AnimalCare veterinary clinic said they hadn't seen any or an increase in sick chickens recently and that it would be unusual to see an outbreak of disease due to people keeping poultry in their backyard.
Potential diseases that may be contracted during poultry farming include fowl cholera, salmonella, mycoplasma, rimerella anatipestifer, Newcastle disease, gumboro and avian influenza.
Hastings District Council community safety manager Phil Evans said complaints about residents who were keeping animals in contravention of the relevant bylaw, were passed on to animal control officers for investigation.
"In the event that a bylaw is being contravened, a notice would be served on the owner of the animals asking them to obey the relevant bylaw. This is generally sufficient to ensure the provisions of the bylaw are met. However, in an extreme case, council could initiate a prosecution and seek a court order, which, if granted, would require the owner of the animals to comply with the bylaw," he said.
The Havelock North resident said: "We are paying high rates to live in a Third World country close to birds that mess gardens and go on to neighbouring property.
"In Havelock, the average rates per annum are just under $3000."
For more articles from this region, go to Hawkes Bay Today