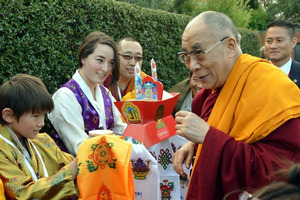 Dunedin's Buddhist community was out in colour to welcome the Dalai Lama yesterday.
The Dhargyey Buddhist Centre in Royal Tce was a sea of Tibetan flags and smiling faces when the spiritual leader arrived at 3pm yesterday, the third day of his five-day New Zealand tour.
He was greeted at the centre entrance with an offering of barley and flour, by Yama Dempster-Passang (16), and a traditional Tibetan milk and butter drink, by Khedrup Dorjee (10).
"It was very exciting. He took a pinch of barley and a pinch of flour and flicked it into the air in offering. Then he just chuckled," Yama said.
Buddhists lined the pathway, decorated for the visit with Buddhist symbols, holding flowers and offering kata scarves for blessing.
The Dalai Lama murmured greetings, touched hands and chuckled frequently as he passed along the line.
It is the spiritual leader's third visit to Dunedin.
He originally visited the city in 1992, when he conducted his first teaching in New Zealand at the Dunedin Town Hall.
He returned in 1996, after the death of Dhargyey Buddhist Centre founder Geshe Ngawang Dhargyey, and to consecrate the Buddhist Peace Stupa on Otago Peninsula.
"His Holiness has a special fondness for Dunedin. He had a close rapport with our first lama, Geshe Ngawang Dhargyey, from their days together in exile in India," Dhargyey Buddhist Centre director Peter Small said.
Tenzin Gyatso, who turns 78 on July 6, is the 14th and longest-lived Dalai Lama; the head monks of the Gelugpa lineage of Tibetan Buddhism.
"His talks mainly focus on how people can live their lives so that they can be happy and have warm hearts towards each other," Mr Small said.
The Dalai Lama will hold a question and answer session for University of Otago staff and students in the St David lecture theatre at 10am today, before his public talk in the Dunedin Town Hall at 12.30pm.
The talk is based on his 2011 book, Beyond Religion: Ethics for a Whole World, about how to lead an ethical and happy life in the face of the global challenges of technological progress, environmental destruction and educating future generations.
The Dalai Lama has long been an outspoken advocate for compassion and religious tolerance and was awarded the Nobel Peace Prize in 1989.
He has been a political irritant to China, which invaded Tibet in 1951, forcing him to flee to India in 1959 and lead an effective government-in-exile.
Some Western leaders have subsequently declined to meet the Dalai Lama for fear of offending China.
The Dalai Lama leaves Dunedin this afternoon for the last public talk of his New Zealand visit, at the Civic Theatre in Auckland tomorrow.