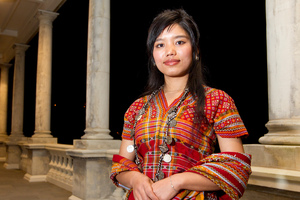 Twenty-five women from 21 countries became New Zealand citizens at Government House in Wellington yesterday in a ceremony to mark 120 years since women here were given the right to vote.
The Governor-General, Sir Jerry Mateparae, congratulated the women for completing their journey in making New Zealand their home.
"Putting our markers in the sand is important in setting out new beginnings," he said.
"One hundred and twenty years ago, New Zealand marked another new beginning that set it on a new course, a radical course at the time and yet one that almost every other nation in the world has followed.
"In 1893, New Zealand became the first nation in the world to grant women the right to vote in national elections," Sir Jerry said.
While New Zealand does not require new citizens to give up their own country's citizenship, some of the women had to give up their passports to become citizens here.
"That is no easy decision to take and affirms your commitment to New Zealand."
Internal Affairs Minister Chris Tremain also congratulated the women, and said while they were now all New Zealanders, their own heritage should not be diminished.
"I hope you will share your culture with all New Zealanders," he said. "Before today New Zealand was your home, but now it is your country."
Siang Tin Thluai Peng fled her homeland of Burma for the safety of New Zealand seven years ago. She said her family members were targeted by the military rulers because of their association with anti-government groups.
She came here in 2006 after fleeing the country by boat, car and foot to neighbouring Malaysia.
New Zealand was peaceful with nice people, Ms Peng said. "I love it."
Her parents, grandparents and cousins were still in Burma, but since democratic elections in 2010, concerns for family had eased, she said.
Kerstin-Katharina Kramar, from Germany, travelled across the world to study cross-cultural psychology at Victoria University in Wellington 10 years ago.
She said it had been easy to cross the globe to study with an 8-month-old baby because New Zealand was very "mother-friendly".
Normally Germans would need to give up their citizenship if taking it up in another country, unless there were special circumstances. Ms Kramar was given permission for dual citizenship because her new baby born here had automatically been granted dual citizenship.
"It was quite important to us as a family to be the same."
At the ceremony, Ms Kramar wore a traditional dress from Transylvania, where she was born. It was also the dress she was married in. "It's a dress for special occasions," she said.
- APNZ