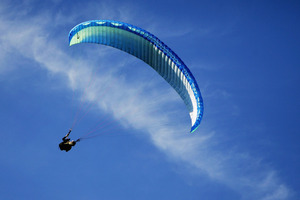 A 25-year-old man has fallen 50 metres onto rocks in a paragliding accident at an Auckland beach.
The man was in a serious condition when emergency services reached him at Maori Beach, Muriwai, about 5.15pm.
St John Ambulance spokesman James Ihimarea said the Westpac Rescue Helicopter transported the man to Auckland Hospital.
Emergency services were alerted to the incident at the beach 40km west of Auckland about 4.45pm, he said.
The man reached Auckland Hospital about 6pm, and was in a stable condition, said Auckland District Health Board spokesman Matthew Rogers.
The cause of the accident and nature of his injuries were unknown.
- APNZ