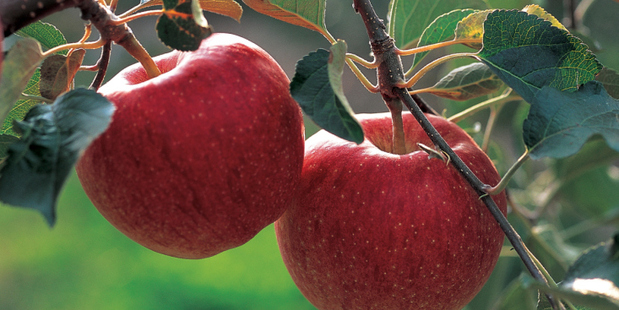 The world's smallest apple, discovered by chance on a New Zealand orchard, has been scooped up by a top UK supermarket.
The apple, which is the same size as a golf ball, is being sold exclusively by Marks & Spencer.
It was given the name 'Tiddly Pomme' - after the classic Winnie the Pooh rhyme Tiddly Pom by AA Milne - by the winner of an online competition which produced more than 6500 suggestions.
The High St retailer hopes the super-sweet apple, a miniature version of the Royal Gala variety, will especially appeal to children.
"The Tiddly Pomme is perfect for kids," M&S buyer Shazad Rehman said.
"Our customers like to try new fruit and we're sure it will be a real hit.
"Don't be fooled by its appearance, what it lacks in size, it more than makes up for in flavour."
Consultant David Cranwell happened upon the 42mm-diameter fruits on a routine walk around his orchards in New Zealand, the Daily Mail reports.
If the tiny fruit proves a hit, M&S, which buys the fruit from Empire World Trade Fruit, will plant its own Tiddly Pommes in Britain for a year-round supply.
- APNZ