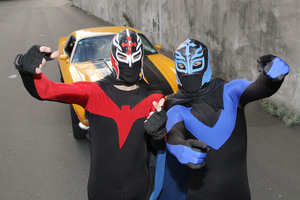 Masked student superhero Flat Man has launched a winter offensive to help hard-up families still doing it tough in post-earthquake Christchurch.
The caped crusader, who hit the headlines last year for his good deeds helping students in need, is trying to raise $10,000 to pull together winter relief packs, including food and crucial supplies, for quake-affected Cantabs still living in damaged homes or makeshift accommodation.
The secretive Flat Man goes to extreme lengths to protect his identity from everyone, including his own student flatmates.
He has spent the last year delivering food parcels, which usually include household basic items like toilet rolls, laundry powder, washing up liquid, but also some treats - "always chips, coke and chocolate" - to people in need.
At first, he funded his philanthropy himself, but as his operation has grown, along with his public profile, he's been overwhelmed by donations and support.
He's even had to enlist the help of a trusty sidekick, Quake Kid - and a flatmobile - to keep up with demand, and continue with his work, conducted under the cloak of darkness.
Now, with a third winter already underway for the post-disaster city, Flat Man wants help in raising $10,000 so he can create winter packs and secretly deliver them to people who could do with them the most.
"New Zealand winter is hard enough, without having to live in garages and backs of cars," he says.
"Sometimes it takes too long for the help to get to where it is needed - it gets caught up in politics and people in suits and hard hats sitting around blaming each other.
"And before you think, 'Oh but it's been two-and-a-half years, who cares', come and talk to the people I've met and you'll understand just how hard it's been and continues to be.
"If I can do something to bring just a little joy to those in need, then why not? After all, that's what it's all about - getting out there and helping others in any way we're capable."
The University of Canterbury student from Christchurch, who was inspired by the Student Volunteer Army's work in the wake of the city's earthquakes, has designed his own Flat Man costume, lighting bolt logo, and has a popular Facebook profile.
Click here to learn more and support his crusade.
- APNZ