Senior manager from the Ministry of Education says principal and his team will get all the help they need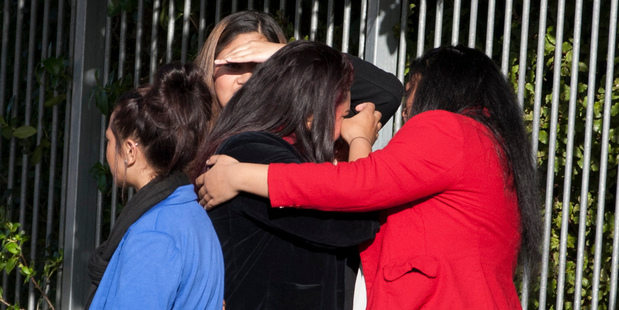 Students and staff at Kelston Boys High School - devastated over the death of Stephen Dudley - will be supported by a special trauma response team for as long as they need it.
A senior manager from the Ministry of Education visited the school yesterday morning to support the principal and board chairman, Katrina Casey, Deputy Secretary Regional Operations said.
"I was saddened to hear about the death of a student following an alleged assault at Kelston Boys' High yesterday ... We will be providing as much support to the principal and school as possible, for as long as they need it."
The role of the trauma response team was to support a school when a serious incident had the potential to affect normal operations.
They would make sure the school management team had access to support services and interventions, such as Victim Support, Health Services and welfare agencies.
A special assembly was held yesterday morning and friends of Stephen Dudley gathered near where he was injured to pray and bless the scene.
A banner which read "RIP Stephen" was hung at the entrance to Kelston Boys High School, and his schoolmates wrote messages as they filed past as they left school this afternoon.
"Rest in paradise bro," said Navarone Flavell, a teenager from the neighbourhood who said he was struggling to come to terms with what had happened.
"It's just real dumb. It sucks."
Students from nearby Kelston Girls High, some in tears, also paid their respects and sat beside the roadside shrine.
"I'll really miss him," said one girl, who did not wish to be identified.
Kyle Fletcher, one of Stephen's former classmates, said there was intense mourning at the school today. "It was just quiet, not like normal. There was a lot of respect for Stephen." Kyle said he and everyone else who knew Stephen would miss him very much.
"He was a real down-to-earth kind of guy. He was really, really nice and he respected everyone pretty much ... A Really cool guy, and he didn't really have any enemies."
One 15-year-old said he broke down when he found out what had happened.
"He was in a few of my classes since year nine and we always used to play basketball together on the courts. "He was a kind boy and I really can't believe what happened, no one can." On the rugby field where the fatal alleged assault took place at Kelston Deaf Education Centre, a large sign which read "Field Closed: Tapu" was erected and a small bouquet of flowers lay at the base of one of the rugby posts.

What Kelston Boys High told parents:
Letter to parents from Kelston Boys High principal Brian Evans and board of trustees chairman Jonothan Tommy:
As you may or may not have heard, our school has experienced a tragedy that has affected us deeply. Yesterday afternoon following a rugby training session, Stephen Dudley, a Year 11 student, was involved in an incident that led him to being admitted to hospital where he died shortly after.
The school community, the board, the principal, the staff and boys of our school are devastated by this tragic event. We are working with the police and our key priority at this time is to support our students, teachers and Stephen's family.
We anticipate a range of emotions and behaviours to this event. The most important thing we can do is to be supportive and encourage discussion about the event, about feelings and ways of responding.
We have implemented a plan for responding to this situation and our staff have been briefed on guidelines for discussing the incident and understanding reactions to it. Counsellors will be available throughout the school and we are grateful for the support and assistance received through local schools and the Ministry of Education.
We maintain our school routine and structure as normal. If you feel that your son or other family members are displaying signs of distress and may need assistance please contact us and we will do all we can to help.
If you have questions please contact the school office by calling 818 6185 and you will be directed through to our Guidance Team. We will keep you informed of any other information that we feel is of relevance to help you and your son. We know that you will join us in our concern, support and sympathy for those involved in and affected by this incident.