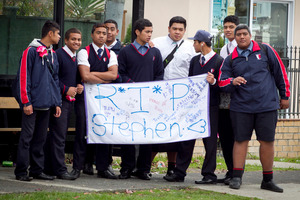 The violent death of a Kelston Boys High School student will come as a huge disappointment for a community that has worked hard to raise its boys' achievement.
The school has hit the headlines for violent incidents in recent years, most notably for its students' involvement in a 2009 rugby brawl.
The fight between the Auckland Grammar and Kelston Boys High 1st XV teams saw players on both sides sent to the judiciary panel.
Five Kelston players and four Auckland Grammar students were given bans. The Kelston bans, initially much harsher, were reduced after a public outcry.
And this month a Kelston parent who punched softball great Eddie Kohlhase while watching an under-15 game was banned from the sidelines for the rest of the year. However, under principal Brian Evans' leadership the decile 4 school has seen a big improvement in its NCEA results.
More than 200 boys attended holiday tutoring sessions, the NCEA Level 1 pass rates have gone from 58 per cent in 2010 to 81 per cent last year, and Level 2 passes from 59 per cent to 80 per cent.
The 1st XV, which had a 27 per cent pass rate across three NCEA levels in 2010, has been made to attend homework club. Last year their rate jumped to 79 per cent.
World Cup-winning coach Graham Henry was a headmaster at the school, which has a long roll call of former All Blacks including Mils Muliaina, Kees Meeuws, Sione Lauaki, Mose Tuiali'i, Anthony Tuitavake and Sam Tuitupou.
All Black great Inga "The Winger" Tuigamala, who left the school in 1987 and has a son there, said this week's incident was a huge shock.
"This is such an unfortunate situation where a young man's life has been taken, it really is hurting." Kelston Boys was not a violent school and it could have happened anywhere, he said. "It could be in North Shore, it could be in South Auckland."