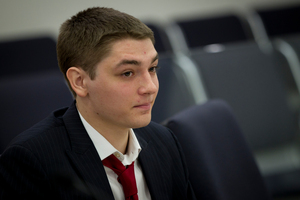 A young man who helped his friend spray-paint swastikas and other offensive statements on Jewish graves at a central Auckland cemetery has been told he is "staring down a sentence of imprisonment".
Christian Landmark, 20, spent last night in custody and will stay there until he is sentenced later this month.
Judge Russell Collins found him guilty today of intentional damage after a two-day hearing at the Auckland District Court.
He said Landmark had tried to sell photos of the graffiti attack to the media.
"I have to say Mr Landmark's efforts to make money out of this as a serious aggravating factor."
Police prosecutor Catherine Gisler said Landmark - originally from the UK - was a flight risk and despite pleas from Landmark's lawyer Tudor Clee, Judge Collins remanded Landmark in custody.
"You know I regard this type of offending as at the absolute top end," Judge Collins said.
He asked Mr Clee if he could think of a worse case of intentional damage. Mr Clee conceded that he could not.
The court was told Landmark and his former friend Robert Moulden had been drinking at their inner-city hostel in October last year before they decided to go out tagging.
The pair found themselves in the Jewish graveyard at the top of Auckland's Symonds St.
Judge Collins said both men took part in the attack which included spray-painting swastika and other anti-semitic symbols on the graves.
Robert Moulden earlier pleaded guilty and met members of the Jewish community as part of a restorative justice programme. He was sentenced to 320 hours of community work, nine months of supervision and ordered to pay $3000 in reparations.
But Landmark denied he had taken part, despite police finding no less than eight photos of the graffiti on his cellphone.
When initially interviewed by police, Landmark told Detective Sergeant Phillip Cox he had been shown a photo of the graffiti by a friend but didn't know anything about the man responsible except that his name was "Rob".
But after Mr Cox said police had spoken to a friend of Landmark's, he suddenly came clean.
"Ok, I think we should restart the interview. It wasn't me who did it. I was there at the time, I was absolutely drunk at the time - out of my mind - with Rob."
Judge Collins said Landmark's lie was a made in a "calm, complete and assured way" and was only one factor in his finding of guilt.
Judge Collins said he found Moulden's evidence to be generally consistent and if anything, Moulden was trying to protect Landmark.
He said Landmark had owned the spray can, knew what was happening and had photographed Moulden spray-painting.
Judge Collins also pointed to a damaging text message conversation between Landmark and an unnamed friend the day after the attack.
The friend texted: "Saw your handy work on the filthy jew cematry [sic] g it made the news".
Landmark replied lmfao [laugh my f***ing ass off] which news lol [laugh out loud]".
Police have said the total cost of the damage is more than $27,000.
- APNZ