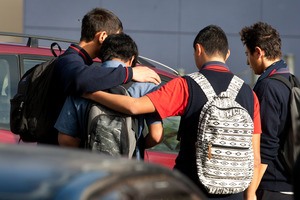 Counselling has been offered to Kelston Boys High School pupils following the death of 15-year-old student Stephen Dudley.
In a letter to parents jointly signed by principal Brian Evans and board of trustees chairman Jonothan Tommy, they advised counsellors would be available for students throughout the school.
"We will maintain our school routine and structure as normal.
"If you feel that your son or other family members are displaying signs of distress and may need assistance please contact us and we will do all we can to help.''
Police launched a homicide inquiry following Stephen's death after a rugby training session about 5pm yesterday.
The letter to parents said the school had "experienced a tragedy that has affected us deeply''.
It said the entire school community had been devastated by the tragic event.
Kelston Boys staff had been working with police and were anticipating "a range of emotions and behaviours'' following the event.
"The most important thing we can do is to be supportive and encourage discussion about the event, about feelings and ways of responding.
"We know that you will join us in our concern, support and sympathy for those involved in and affected by this incident.''
- APNZ