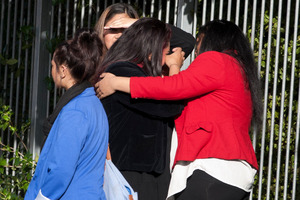 An alleged assault which left Auckland schoolboy Stephen Dudley dead may have been filmed, police say.
A homicide inquiry was launched after the 15-year-old died about 5pm after training for a Kelston Boys High School junior team.
A 15-year-old boy and a 17-year-old boy were arrested last night and charged with assault.
Detective Inspector Bruce Scott said police had taken phones from people who witnessed the incident in the hope of gleaning information.
"There is a possibility that the assault may have been filmed. Young people, as we know, like to use their phones for a number of purposes, one of them is to film things that are happening."
Mr Scott would not confirm whether someone had informed police that the incident had been filmed.
"They may have. I can't say too much about it."
He did not rule laying further charges against the two teenagers arrested and depending on the results of a post-mortem examination "other charges may be preferred".
There was no possibility a murder charge would be laid at this stage, he said.
The post-mortem would be completed today, but the results would not be made public as the matter was now before the courts, Mr Scott said.
'A MOMENT'S MADNESS'
Police interviewed 16 witnesses last night and another 11 today, and still had a few more interviews to conduct.
"They're all good kids," Mr Scott said. "It was very upsetting for them and the school community, as well as for the family of the victim, of course ... It's a terrible tragedy."
"A moment's madness and look at the consequences: a family have lost a 15-year-old boy, mum and dad are grieving, his siblings have lost a brother. It's terrible.
"It could happen to anybody, a moment's madness."
The accused teenagers appeared at Waitakere District Court this morning where Judge Brian Callahan suppressed all details that would identify them following submissions from their lawyer John Munro.
The 15-year-old was subject to a blanket suppression order preventing the media from reporting anything but the fact that he had appeared in court.
The 17-year-old was remanded on bail as his parents, aunt and cousins looked on from the public gallery.
The pair will be back before the court on July 2.
Stephen was a flanker for the school's 2C team, which trained at the Kelston Deaf Education Centre yesterday afternoon.
The coach had left before the incident took place. Stephen was knocked unconscious and taken to Auckland City Hospital, but died a short time later.
TRIBUTES FOR YOUNG RUGBY PLAYER
Friends have paid tribute to Stephen on social media and a Facebook page set up for the teenager has already attracted more than 10,000 members.
Among them was Stephen's aunt Rachael Andrews, who described her nephew as an angel.
"Such a beautiful boy inside and out. Rugby star of our whanau," Ms Andrews wrote.
He has been portrayed as an athletic young man and a close friend to many.
"A tragic waste of a young life. Feeling for his family & friends. RIP," Shiona Holman wrote.
The chairman of the Kelston Boys board, Jonothan Tommy, said the incident was hugely distressing for the school community.
"It is a terrible thing to happen. A terrible thing."
Kelston Boys' 1st XV team was due to play against Otahuhu College tomorrow. This afternoon Auckland Rugby said on its website that that game had been postponed.
STUDENTS STUNNED
Former All Black Inga "The Winger'' Tuigamala has also spoken of his shock at the death of the teenager at his former West Auckland school.
Tuigamala said he was shocked by the incident, saying it was a "huge disappointment to have something like that happen''.
"The fact that a young life has been taken unexpectedly in such difficult circumstances [is a tragedy].
"My condolences go to the family of the victim. I think everyone's pretty devastated with what happened.''
For the incident to occur "in your own backyard'' was even harder to swallow, Tuigamala said.
"This is such and unfortunate situation where a young man's life has been taken, it really is hurting. Words are pretty hard to find right now.''
Kelston Boys was not a violent school and the incident could have happened anywhere, he said.
"It could be in North Shore, it could be in South Auckland.''
Tuigamala said he left the school in 1987 and has since had two of his sons go through the school.
"I've got a young son who's still there in his first year at school.
"They had the school assembly this morning, which is obviously to notify everybody what had happened last night.''
The students were stunned, Tuigamala said.
He said his son knew of Stephen, but did not know him personally.
The fact the incident occurred at Kelston Boys, which was very prominent in its sporting success, was even more disturbing, Tuigamala said.
"It's just one of those incidents which you wish had never happened.''
The Facebook page set up as a tribue to Stephen has been filled with heartfelt messages of support from close friends and others who never knew the teenager.
He has been portrayed as an athletic young man and a close friend to many.
"A tragic waste of a young life. Feeling for his family & friends. RIP,'' Shiona Holman wrote.
Another person, Jackie Harrison, described the death as a tragic loss. "Thoughts and prayers with this young Warrior's whanau.''
While some wrote tributes in English, Maori and Samoan, others have posted commemorative videos and photo montages.
"Brother rest easy,'' Samson Suitupu wrote.
"Gonna miss the times we played shadow boxing in engineering. Gonna miss asking you for help. RIP Stephen Dudley, God bless.''
Tamara-Rose Shaw wrote: "Rest easy Stephen Dudley. You'll truly be missed by everyone, such a great guy and so un-expected,''
Nora Su'a said a "strong and beautiful soul'' had been taken from family and friends. "Not only that but from this world too.''
"Taken at the age of 15 but now in the hands of God.''
Melive Sanele said he "never though this day would come''.
"Thinking back to our intermediate days where you'd be this little cute, bubbly, funny and bright little boy.
"You will be missed dearly little one.''
Bailee Holland summed up her thoughts by writing: "RIP Stephen, wish I was there for you like you were always there for me.''
A group of 17 students from Kelston Boys unfurled a banner at Waitakere District Court this morning following the appearance of two teenagers charged in connection to Stephen's death.
"RIP Stephen,'' the banner said.
"We're just here to show our respect to Stephen,'' one of the students said.
The school organised a 9am assembly in Stephen's honour.
* Send your story, photos or video here.
- APNZ