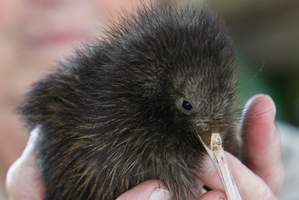 A sighting of a Haast tokoeka kiwi chick at Orokonui Ecosanctuary is an important milestone for the recovery of the rare native bird, the Department of Conservation says.

Kiwis from South Westland were first introduced to the ecosanctuary in November 2010 and 16 have had the run of the predator-proof enclosure since, although they have mostly remained in the upper part of the ecosanctuary.
Orokonui ranger Kelly Gough recently spotted the chick disappearing into bush near the ecosanctuary's perimeter fence. She had seen kiwi droppings in the vicinity and soon afterwards caught a glimpse of the rounded back of a small kiwi.
Doc biodiversity programme manager, in charge of kiwi recovery projects in Haast and Franz Josef, Jim Livingstone said breeding pairs at Orokonui would be a "big boost" to the genetic diversity of the population overall, which was vital for the ongoing health of the wild birds.
Only about 350 of the kiwis remain in the wild.
Ecosanctuary trust board chairman Neville Peat said the appearance of the young kiwi was a thrilling moment for Dunedin and Otago, a region that had not had kiwis in a wild or semi-wild situation for about 130 years.
"Discovery of a chick is another sign the habitat is suitable for kiwi. They are making themselves at home."
Late last year, staff who had been tracking the birds believed at least two couples had formed.
Mr Peat, who has written three books on kiwis, said the ecosanctuary would like to build the largest satellite population outside the birds' natural range, in the mountains south of Haast.
"We've been advised that Orokonui could sustain about 30 breeding pairs, and eventually some of the progeny, surplus to the breeding population here, will be returned to the South Westland mountains when they are old enough and large enough to withstand predators."
In support of the recovery of the species, the ecosanctuary would be liaising with DoC and the iwi guardians, Te Runanga o Makaawhio, over the return of Orokonui-hatched birds in the future.