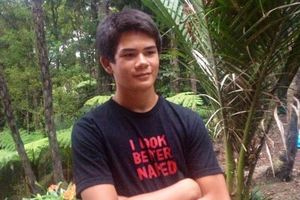 A 15-year-old boy died after a violent incident at a school rugby training session in West Auckland in an incident locals say is out of character for the school.
The Herald was told Stephen Dudley was "rushed" by several teenagers about 5pm after training for a Kelston Boys High School junior team.
He was knocked unconscious and taken to Auckland City Hospital, but died a short time later.
A teenager who saw the incident said there was a fight after training involving Stephen and two other boys.
He said the two teens threw seven or eight punches before Stephen fell to the ground.
"We thought he was going to get back up but he just lay on the ground ... We tried CPR on him but he didn't get up."
Another witness also described the fight.
"They were about to have a scrap but the older [teen] ran in and shouldered him in the jaw," he told the Herald.
"He dropped and when he got up they started hard out punching him. He walked away, but after that he just fell to the ground."
Neither of the witnesses knew why the fight started.
Stephen was a flanker for the school's 2C team, which trained at the Kelston Deaf Education Centre yesterday afternoon.
Emergency services were called to the field after the attack, and police started a homicide investigation soon after.
Detective Inspector Bruce Scott said it was too early to comment on the specifics of the teenager's death.
Officers were last night interviewing Stephen's teammates at the Henderson police station.
Stephen's family had been told of his death and were distraught, Mr Scott said.
The chairman of the Kelston Boys' board, Jonothan Tommy, said the incident was hugely distressing for the school community.
"It is a terrible thing to happen. A terrible thing."
Whau Local Board deputy chair Duncan MacDonald said there had been incidents of school violence in the area over the years.
"But I've never really seen them coming to blows or anything like this. They just tend to jump up and down and curse and swear at each other a bit," he said.
An assembly will be held at the school at 9am today in honour of Stephen.
A school sports Facebook page said the 1st XV would wear black armbands for their game this weekend against Otahuhu.
Last night, tributes were flowing for Stephen on social media websites. A Facebook tribute page had nearly 5000 supporters.
Archibald Rd resident George Rawlinson, who lives across the road from the field, said he heard a loud yell about 5pm
Shortly afterwards, police arrived at the scene.
additional reporting: Nicholas Jones, Newstalk ZB