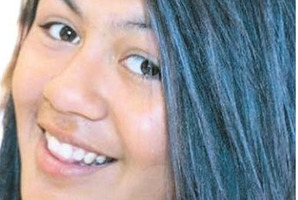 Hundreds of people have farewelled a 14-year-old girl killed in a fire at a Rotorua factory after a party.
More than 700 people, including students and teachers from Western Heights High School, gathered at Tunohopu Marae yesterday morning to say goodbye to Mihinui Tamiana, who died early on Sunday.
Mihinui's coffin was covered with photographs and surrounded by flowers. Family and friends sat around the casket at the front of the wharenui during the service.
Ngati Whakaue kaumatua Pihopa Kingi said there had been many earlier tributes and yesterday's service was about laying Mihinui's body to rest.
"This is a friendly reminder of the tragedy that occurred for you as you grow and become mature and adults to be careful, to care for yourself and others and consider the best options for you as you grow because you are going to be leaders of Maoridom and the community," he said.
Mihinui's uncle Peter Tamiana said his niece had a message for her family and friends: "Don't grieve for me.
I've been called by the Father. I've been called to go home.
"Don't cry for me ... If I left a broken heart it's okay, we will meet again."
Mr Tamiana spoke of people having freedom of choice.
"Our favourite hobby is to point the finger at anyone else. It doesn't work like that ... Whatever choices you make they are yours, nobody else's."
About 100 Western Heights High School pupils sang He Honore andas the coffin was taken to the hearse students from the school andothers performed two haka.
Detective Senior Sergeant Zane Smith said Rotorua police were yet to speak to some people, including a male who suffered burns and is in a stable condition in Waikato Hospital.
A friend of Mihinui said she believed a molotov cocktail was thrown into the building. However, Mr Smith said yesterday police were yet to speak to anyone who saw any sort of firebomb being used.
"As of yet there is no physical evidence that supports a molotov cocktail being used."
- APN