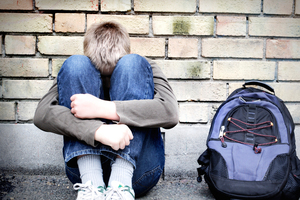 The Ministry of Education has backed down from forcing a Paeroa school to re-enrol a 10-year-old student who the school says is a threat to staff and other children.
The ministry had given Paeroa Central School until tomorrow to lift the exclusion on the boy, who was forced to leave last year for assaulting a teacher and threatening young pupils by telling them he would "cut them up with a knife''.
It said the student was ``legally required to be enrolled, and his local school offers the best chance he has for gaining the stability he needs''.
The school's principal Janet Jones said they would defy that order and an urgent meeting was arranged for tomorrow between ministry officials and the school's board of trustees.
However, this afternoon, the ministry's special education group manager Brian Coffey said the boy would not be re-enrolled without the school agreeing to that course of action.
"We know this boy has some serious behaviour issues and that the concerns of the school and parents are quite genuine,'' he said.
"Our plan is to have the boy attend the Thames Valley Alternative Education Centre, where he will get specialist support that will also be available to him at home.
"We had hoped to be able to enrol him again at Paeroa Central and to transition him slowly back into that school as progress was made. But we will not do that without the agreement of the school.''
The ministry wanted to ensure that the outcome had the ``buy-in'' from all concerned, Mr Coffey said.
"We will continue to work with the school, the boy's family and all other relevant agencies, including the police and Child Youth and Family, to ensure he gets the opportunity he needs in a way that secures the safety of the people around him.''

Mrs Jones said the child had attended 14 schools and had a history of violence, including trying to assault a staff member with a cricket bat at his last school.
She said the advice from a psychologist involved in the boy's care was that he would "be a danger at whatever school he is in''.
Earlier today she said the ministry was putting the rights of one child over the rights of 85 others.
She said the ministry, which had offered extra funding of $34,000 a year to support the student, was letting down her school and the troubled youngster by wanting him re-enrolled at Paeroa Central.
The ministry had told the school it was denying the boy a right to education, and Education Minister Hekia Parata had declined to get involved, Mrs Jones said.
- APNZ