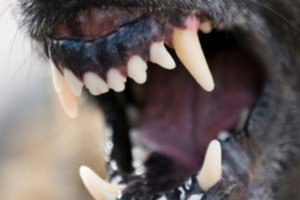 A woman suffered serious facial injuries in what was described as a "horrific" dog attack in Gisborne.
The 54-year-old woman was playing with two dogs at a family function in Kaiti when they attacked her on Monday afternoon.
She was in a stable condition yesterday at Gisborne Hospital with serious facial injuries and bites to her body.
A white and brown labrador-cross was destroyed by animal control officers and a rottweiler was impounded, Gisborne District Council animal control team leader Steve Greaves said.
"Council staff are liaising with police on this incident and further action may take place," he said.
"It is timely to remind dog owners they must be aware of where their pets are at all times."
If people held a gathering and owned a dog, it was important to remember to put them away, he said.
"No owner can predict what their dog may do if put under stress by visitors. Children are most at risk in these situations due to poor supervision of both child or dog."
Mr Greaves said most dog bites went unreported because people were bitten by their own dog.
The attack follows a string of other dog attacks in the Kaiti area in which pet rabbits, sheep and chickens had been killed by roaming dogs.
Mr Greaves said one dog had been identified as a culprit and had been impounded.