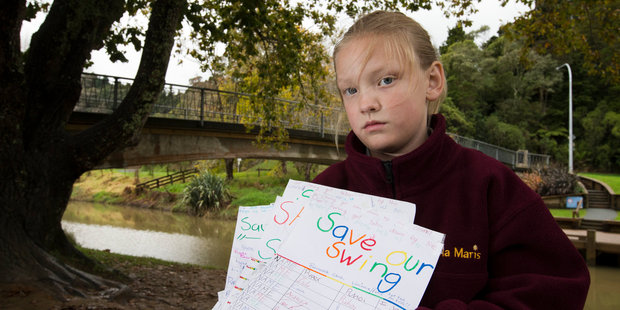 Nine-year-old Isla Lodewyks is so upset the Auckland Council took down a rope swing in Puhoi that she has started a petition to get it back.
But the council says the swing was unsafe and staff needed to ensure no visitors to the area were exposed to "unnecessary risk".
Says Isla's father, Nick: "Maybe we should drain the river as well, make that safe too. There's a whole river that people could fall into. Where does it end?"
About a year ago, a local man put up the rope swing - with a piece of wood for a seat - in the old oak tree on a bank of the Puhoi River.
Children flocked to the river's edge to take turns dropping into the water. Mr Lodewyks said families took picnics by the tree, and the spot, opposite the Puhoi General Store, became a community hub.
"People would come here from miles around to have a go on it. There's not many of those swings left any more.
They seemed to really enjoy it - the kids sort of gravitated towards it."
But a week ago, recreational services workers took down the swing on behalf of the council, much to the dismay of the village.
The Auckland Council's manager of local and sports parks, Mark Bowater, said the rope swing was unsafe. Some of the embankment piles below the swing had become loose and posed a risk to the safety of swing users.
"We are currently looking into whether it is appropriate to repair or remove the piles," Mr Bowater said in a statement.
But Isla has started a petition to try to convince the council to bring the swing back. So far, she has received more than 150 signatures, many of them from children.
Mr Lodewyks said no one had hurt themselves on the swing.
Kids also jumped off the bridge into the river, which was probably more dangerous.
The removal of the swing comes after a Christchurch principal announced a week ago that he would reintroduce bullrush at his school. The move was to counterbalance a health-and-safety culture which has seen playgrounds remodelled, particularly overseas where litigation fears have killed off tall slides and seesaws.
The Weekend Herald article on the return of bullrush is sitting next to Isla's petition form on the counter of the Puhoi General Store.