Murdered teen's family thankful for 18-year non-parole period but say 'life should mean life'.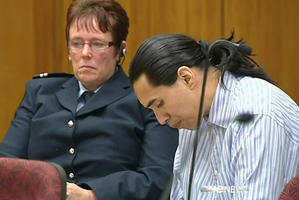 The family of murdered Christchurch teen Hayden Miles are thankful his killer will spend at least 18 years behind bars, but say "life should mean life".
Gavin Gosnell was yesterday sentenced to life imprisonment with a minimum non-parole period of 18 years for the murder and dismemberment of 15-year-old Hayden.
The 28-year-old sacked his defence lawyer in a surprise move in the High Court at Christchurch yesterday morning, while pledging his innocence and vowing to appeal against his conviction on the basis he did not get a fair trial.
"I'm not a murderer and I didn't murder Hayden Miles," he said, while apologising to the Miles family for raising the possibility of putting them through a retrial.
"It kills me that Hayden's dead. I hate that I'm still hurting youse [sic] when I've already hurt youse enough. I'm ashamed as a father and as a person."
But the Miles family dismissed Gosnell's words, saying they wanted to focus on rebuilding their own shattered lives and remembering Hayden.
Gosnell was found guilty of murder after a trial in April which featured grisly dismemberment evidence.
The unemployed drifter admitted killing Hayden after an assault at a Cashel St flat on August 22, 2011, before cutting him into 12 pieces with a $20 jigsaw and dumping his remains in two graveyards.
It has been 652 days since grieving mum Jacqui Miles last saw her son, and ever since, she said, she had been "living a nightmare that I can't wake up from".
In passing sentence, Justice Lester Chisholm said Gosnell was someone who had led a "difficult life", and racked up 60 previous criminal convictions, spending much of the past 14 years in jail.
Outside court, Jacqui Miles' sister Sandy was relieved at the sentence, but added: "We believe that life should mean life in prison."
- APNZ