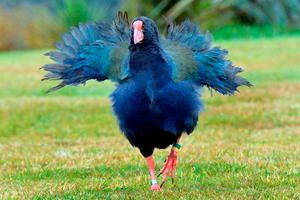 Birds of a feather flock together. And so it proved at Orokonui Ecosanctuary yesterday, as two takahe waddled off into a brave new world.
Resident takahe Quammen and his new female friend from Kapiti Island, Paku, spent the past three weeks in a pen getting on beaking terms and were released into the 307ha sanctuary at 11am yesterday.
"We hope they'll be one of the stars of the show at Orokonui, along with the kaka," conservation manager Elton Smith said.
"There's been no sign of aggression. They're sharing food, which is an incredibly good sign."

Quammen and another male bird - his nemesis, Te Hoiere - were introduced to the ecosanctuary from Maud Island in the Marlborough Sounds last May, but never saw eye to eye.
Te Hoiere died of septicemia in November. Food pellets will be supplied at a pond at 11am daily to enhance viewing opportunities of the birds.
"The pond is surrounded by lots of little retreats. The takahe will like that when there are noisy school groups around," Mr Smith said.
Watched by Orokonui Ecosanctuary staff, Paku the female takahe takes her first steps into the open yesterday.
"The whole idea is for people to come and see them so, hopefully, the feeding bay will keep them around. Now, they just have to get used to people."
Otago Natural History Trust chairman Neville Peat said only 200 takahe were believed to survive in the New Zealand wild.
"There were about 300, but they suffer from low birth-rate and predation. The largest population is in the Murchison Mountains in Fiordland, where there are about 80.
"The other pair were invisible because they were fighting with each other. Quammen went down to the bottom gate and Te Hoiere stayed up the top."
The new pair were unlikely to breed, Mr Peat said.
"We've always thought we could breed takahe here, if we had a breeding pair. But, these two have got fertility issues, with inbreeding. They look like they're getting on really well, though.
"We hope they will raise awareness of the plight of the takahe."