$12,000 raised for operation on brain tumour not needed but 'they wouldn't let me give that money back'.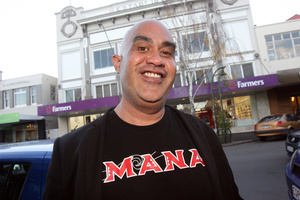 A Mana Party candidate who kept $12,000 that had been given for his cancer treatment says he was unable to give the money back.
Television host Te Hamua Nikora is representing Mana in the Ikaroa-Rawhiti byelection, which was prompted by the death of Labour's Parekura Horomia in April.
Mr Nikora was diagnosed with a brain tumour three years ago and his community raised between $30,000 and $40,000 for private treatment.
When the Auckland District Health Board did the operation free of charge, he said he would give the money to charities and the community.
Maori current affairs show Native Affairs asked Mr Nikora this week whether he had returned all of the money, and he confirmed that he had kept $12,000 which had been raised for him in an art auction.
"They wouldn't let me give that money back," he said.
Asked whether he felt it was right to keep it, he said: "Yes. My whanau gave it to me. We have to think of this in not so much a money way but in a Maori way."
A member of the Gisborne-based Toihoukura art school which held the auction, Steve Gibbs, confirmed that the money was intended as a koha and the school was happy for him to keep it.
Maori Party candidate Na Raihania, who also appeared on Native Affairs, said the questions about the fundraising "came as a big surprise".
"I'm pretty sure the voters will be interested in that sort of thing," he said.
"People expect a high level when you're running for office and the people will judge where that is."
Labour candidate Meka Whaitiri said it was not an issue she was concerned about. Mr Nikora has said in previous interviews that he redistributed all of the money given for his treatment.
Asked whether he should have been more up-front about how much money he returned, a Mana spokesman said: "He was not entirely aware of the situation.
"He had a brain tumour ... he was heavily medicated, and he was at arm's length from the fundraising efforts."
The spokesman said Mr Nikora had later tried to give it to a cancer organisation but Toihoukura had urged him to use it for his recovery.