Departing chairs say outstanding leadership of two key women was central to their part in Glenn's project.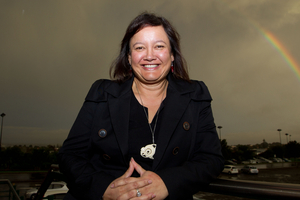 Three more key members of Sir Owen Glenn's inquiry into child abuse and domestic violence have quit in sympathy with the inquiry's founding director, Ruth Herbert.
Auckland lawyer Denese Henare, Waitangi Tribunal member Joanne Morris and former Chief Human Rights Commissioner Rosslyn Noonan have all resigned, less than a month after they were appointed to chair the hearings at which New Zealanders are being invited to tell their personal stories of family violence.
Their resignations leave only one remaining hearings chairman, former Race Relations Conciliator Gregory Fortuin, who has also been appointed to a new governance board of five men and one woman to oversee the inquiry.
The three departing chairs said the leadership and expertise in the issues of family violence of Ms Herbert and her operations director Jessica Trask, who has also resigned, were "absolutely central" to their involvement in the inquiry.
"She [Ms Herbert] provided outstanding leadership and management," Ms Henare said.
"By that I mean that under her leadership it gave rise to the principles, processes, the attraction of the people, the structure, the methodology. All those qualities and capacities of her leadership inspired my confidence to participate."
Ms Morris said she had been excited about the inquiry's opportunity to tackle family violence under Ms Herbert and Ms Trask, and was very disappointed that the opportunity had been lost.
Think-tank member Dr Neville Robertson said he and other think-tank members were still in the dark about what exactly caused what new governance board chairman Bill Wilson, QC, said last week was "a breakdown in the relationship between Sir Owen and Ruth".
"We are seeking more information from the governance board and the chief executive who has been appointed," he said.
"There has been a discussion among think-tank members and it's likely that a collective response will go to the board and the CEO shortly."
Ms Herbert said she could not talk because of a confidentiality clause in her contract.
Incoming chief executive Kirsten Rei moved quickly to reassure the inquiry's 10 remaining staff, on her first day in the new job yesterday, that the inquiry would continue.
She said no other staff had quit.
"I have spent the best part of the day with some really passionate staff who, like me, want to move things forward." She said Sir Owen's decision to set up the inquiry and fund it with $2 million from his personal fortune was "a gift" that should not be lost.
Mr Fortuin said he also agonised over whether to stay involved, because Ms Henare and Ms Noonan were friends, but decided that the cause of eliminating family violence was "bigger than any one of us".
Social Development Minister Paula Bennett said the Rotorua pilot would still start on July 1 as planned.
Glenn inquiry: who's gone
* Ruth Herbert - director
* Jessica Trask - operations director
* Catriona MacLennan - think-tank member
* Denese Henare - co-chair
* Joanne Morris - co-chair
* Rosslyn Noonan - co-chair.