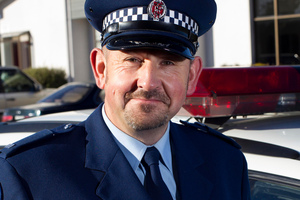 A police officer says he barely thought about the risk as he tackled a petrol-soaked man who was threatening to kill everyone in the house with the flick of a lighter.
Constable Gary Prescott, whose bravery has already been commended after he saved an elderly woman from drowning while off-duty, was confronted with the volatile situation in the Christchurch suburb of Merivale on Sunday.
A woman had called police about 8.20pm to say her son was threatening to burn down their house - and he was going to do it whether she was inside or not.
She and another woman barricaded themselves in a garage while they waited for police.
Mr Prescott and patrol partner Constable Rick Groen arrived to find the house quiet.
"We found a broken window on a ranch slider, and we've made our way into the house finding it quite dark and very quiet," he said today.
They called out to identify themselves as police officers, but got no reply.
"We then heard the sound of splashing from up some stairs and the strong smell of petrol."
As they climbed the stairs, the officers saw a man pouring petrol over his head.
They called out for him to stop, but received a chilling reply.
"He swore at me and he said no, he wanted everyone in the house to die," Mr Prescott said.
"I sprayed pepper spray into his face, but because the petrol was still being poured over his head, it's really just washed away I guess - it's had no effect.
"I saw a lighter in his hand and I made the decision to charge at him to tackle him, to get the petrol can out of his hand."
Mr Prescott's partner then grabbed the man's other arm and wrestled the lighter from him.
There was a bit of a struggle but the two officers managed to get the man out of the house and restrain him outside.
Mr Prescott said he was aware they could all go up in flames, but he barely gave a moment's thought to getting petrol all over himself.
"You've just got to do something about it. A decision had to be made right then and there as to what to do, and the most obvious one was to stop him from carrying out what he wanted to do.
"You don't really think too much about the potential consequences until after it's all over and the adrenaline goes.
"Obviously I was quite doused with petrol over my head and body and clothing, but you don't think about that when you're moving in to try and stop something."
Inspector Derek Erasmus said the officers showed extreme bravery. "This was a fast-moving and potentially volatile situation," he said.
"They acted quickly and decisively to tackle the offender, despite the risk to themselves. I have no doubt that their actions potentially saved one or more people from serious harm."
A 23-year-old man appeared in the Christchurch District Court yesterday on charges including attempted arson, burglary and threatening to kill, and was remanded in custody to reappear tomorrow.
Mr Prescott received a police bravery award last year for his efforts to save an elderly woman from drowning after she crashed her car into a Christchurch canal.
He was off-duty when he leaped into the water to pull the woman from her sinking vehicle, which had crashed off Linwood Ave in December 2010.
The citation for Mr Prescott's Commissioner's Commendation award said his "bravery and diligence was in keeping with the highest traditions of the New Zealand police".
- APNZ