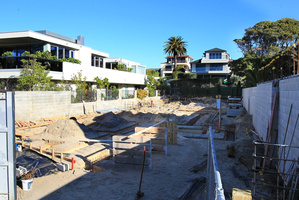 Tauranga's high-end builders and architects are reporting an upturn in activity as confidence returns to the housing market.
Mount Maunganui and Matua are cited as areas where luxury renovations or rebuilds are underway.
"There's definitely been an increase in our activity," said multi award-winning architect Brendon Gordon, of BGA Ltd.
"That corresponds with the level of sales in the Mount area. There's a number of properties there which were on the market for three years which have been snapped up in the last three months. There's more momentum, more confidence in the market."
Mr Gordon said many Mount Maunganui properties had fantastic views and good section sizes. This was harder to come by in newer developments.
"I think it's some of the best coastal property in the world, not just New Zealand, and the architecture should really respect that.
"People are spending a considerable amount either renovating or just rebuilding. There are some 1970s and 80s homes which are getting some serious birthdays.
"A lot of the time what we are doing is bringing them up to date, opening them up to the outside, creating that flow."
However, in some cases it was better to rebuild, he said.
"Sometimes there are false economies to renovating because of the restrictions it places on you."
John O'Donnell, principal at LJ Hooker Papamoa, said building activity had picked up in the last two months.
"Within 500 metres of my home in downtown at the Mount there are three brand new expensive homes being built."
Depending on finish and size, Mr O'Donnell estimated the homes would be worth around $2 million.
"The sections alone are worth a million," he said.
As well as the top-end buildings, a further 30-40 homes in the $400,000 range were being built in Papamoa, he said.
The building resurgence meant spin-off benefits for other trades such as carpenters, electricians and plumbers.
The number of building consents for new homes, issued by Tauranga City Council, reflected this. They increased from 112 for the summer of 2010-11 to 159 for the past summer - up 43 per cent.
The total value of all building consents issued in Tauranga this summer, including commercial and additions, was $88.6 million - up a third on the same period last year and 27 per cent up on 2010-11.
Dave Shaw, of Shaw Builders, was another luxury home builder who was busy.
"We're doing everything from alterations to high-end builds and we've got a few more coming up in the next couple of months in Marine Parade, Oceanbeach Road and Omokoroa.
"There's definitely a lot more confidence about. People who were put off renovating or building four years ago just want to get on with it now."
The 53-year-old said the current activity was limited to 'pockets' mainly in Mount Maunganui and Matua.
Ross Stanway, chief executive of Realty Group, which owns Eves and Bayleys, said there had been an increase in the number of "bulldoze and builds".
"Properties are being given a facelift or totally demolished and new ones built. There's a lot of that going on."
Mr Stanway said streets around traditional favourites, such as Marine Parade, were home to a number of older-style homes and these were often the focus of such attention.
"Good quality sizeable sections with sea views and access to the sea will always be popular."
For more articles from this region, go to Bay of Plenty Times