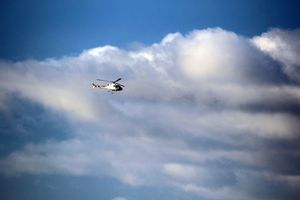 Fears of a light plane crash off the Oamaru coast have been dismissed after police established the flares which sparked the search were set off onshore.
Two helicopters and numerous boats scoured the coast after police received a number of reports of red flares about 3.15pm today.
A further report to police suggested a light plane had ditched into the sea.
But the search was called off about 5pm after police established the flares had been set off from the shore.
Sergeant Craig Sew Hoy of Oamaru police said searchers had not located anything off the coast.
"There's been quite a good search of the sea off Oamaru and nothing was found, and there are no outstanding aircraft to our knowledge.''
Mr Sew Hoy said police had also ruled out flares from a ship.
"It looks like some flares were set off, but they were likely to be in the shoreline area of Oamaru.''
Police were still trying to establish exactly where the flares had been set off from.
"We'd certainly like an explanation from anybody that would know who set those off.''
Sergeant Peter Muldrew said it appeared the flares may have been activated on land in the Oamaru Creek, Oamaru Harbour or Eden St area.
He said it was possible someone had come across an old flare and thought they would get rid of it.
The flare sightings sparked a search by two Central South Island Helicopters aircraft, with police observers and St John staff on board.
Rescue personnel carried out a grid search of the Oamaru coast, but were unable to locate anything. The searchers were stood down about 5pm.
Local flying instructor Leon Hunter said all the planes at the Oamaru Airfield, including those owned by locals and the North Otago Aero Club, were ``safely on the ground still''.
Rescue Co-ordination Centre spokesman Steve Rendle said no emergency locator beacon had been activated.
Boats in the area had been advised on maritime radio.
- APNZ