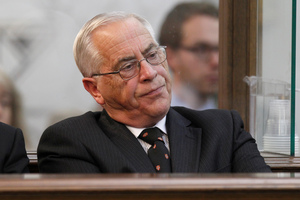 Prime Minister John Key says it is too soon to make a decision on whether former Cabinet Minister Sir Douglas Graham's knighthood should be stripped from him.
Calls for Sir Douglas to lose his knighthood came after the Court of Appeal recently found the sentence of community service, handed down last year, was "manifestly inadequate" and Sir Douglas and three other former Lombard Finance directors could have faced prison.
The Court of Appeal is now considering home detention for the quartet, and attention has turned back to whether he should lose his knighthood.
Mr Key said he sought advice from the Cabinet office over the weekend, along with reading the Court of Appeal judgement.
"Bluntly what the advice tells you is that it's my decision and there are a number of factors to take into consideration, I'll do that when all of the appeal processes are exhausted.
"I think you can see it from both angles; I certainly can. It would be a big call to take a knighthood off someone.
"On the other side of the coin, I accept the seriousness of this matter."
Mr Key said there was only one example in New Zealand of a knighthood being stripped from someone, and in the UK there had been very few knighthoods taken off people.
Mr Key said the decision was difficult because Sir Douglas' knighthood did not relate to his work in finance.
"In the judgement they make it quite clear that they believe he didn't intentionally act dishonestly or with intent, but on the other side of the coin he has responsibilities as a director."
In the UK, Fred Goodwin, who received his knighthood for banking, had it stripped after the banking crisis in the UK.
Labour Leader David Shearer said he hoped Sir Douglas would hand back his knighthood.
"That would be the honourable thing to do."
"He's done some wonderful things in his life but I think in this episode he really does need to consider whether he has that knighthood."
Mr Shearer said Sir Douglas would be remembered for the good things he had done even without his title, "but at the end of the day there are thousands of New Zealanders who lost their futures and their life savings because of the actions and decisions he took".