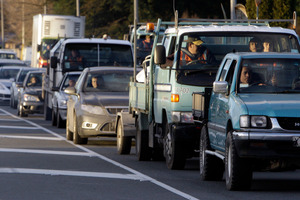 For the first time since records began there has not been a single road death during the Queen's Birthday weekend.
The official road toll holiday period ended at 6am today and Assistant Commissioner of road policing Dave Cliff said it was a "very positive" result for police that no families received an unexpected knock at the door to be told about a loved one's death in a road crash.
But the zero fatalities was "only half the story" and many would have been injured in crashes caused by reckless driving during the long weekend, he said.
"The really sad thing is even if you put aside the Queen's Birthday weekend results, there's still about 150 New Zealanders to be dead [in road accidents] by the end of the year," Mr Cliff said.
"In the context of that, it's a sobering job that [police] do. The worst part of it is the knock on the door advising relatives someone who's been killed suddenly and unexpectedly.
"So if we can avoid that for as many families as possible it's a very positive thing for everybody."
The official holiday period began at 4pm on Friday. It is the first time since records began in 1956 that there have been no deaths on New Zealand roads during Queen's Birthday weekend.
Seven people were killed in four fatal crashes over the same weekend last year - a rise from the single death in 2011 and two deaths the previous year.
Mr Cliff said "back in the bad old days of the early '70s" the worst Queen's Birthday weekend toll was 24 deaths, and a lot of progress had since been made around road infrastructure, vehicle safety and driver attitude.
"We've made tremendous progress, but one death is too many and there's still too many people who are being hurt, and we can still improve the way we drive.''
Police applauded the responsible driving displayed over the month of May, said Waikato District Prevention Manager, Inspector Rob Lindsay.
It was the second fatal-free Queen's Birthday holiday weekend on Waikato roads, and police commended drivers on their mature approach behind the wheel in recent weeks.
"Our staff have reported drivers dropping their speeds and being more considerate to other road users, which has corresponded with worsening winter road conditions.
"We believe this reflects well on the inter-agency social driving campaign associated with the Safer Journeys strategy which is aimed at the community being responsible for safer driving."
Easter last year was the first zero road toll for a public holiday since records began in 1956.
Three people died during Easter weekend 2013.
QUEEN'S BIRTHDAY ROAD TOLL
Highest: 24 deaths in 1973
Previous lowest: 1 death in 2011
Last year: 7 deaths in 4 crashes
This year: No deaths
- APNZ