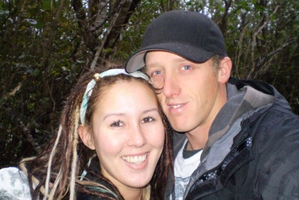 A seaside holiday turned to tragedy for a New Zealand woman who drowned after saving her fiance when he slipped off rocks at a West Australian beach.
Andrea Harris went to help Kegan Myall but as she got him to safety, she herself was swept off the rocks.
Mr Myall jumped back in, but by the time he got to her, she was showing no signs of life. He frantically tried to revive her with CPR.
Mr Myall's mother, Sheri, told the Herald her son was blaming himself, but she believed his actions were heroic.
"It was a simple accident. They were fishing and Kegan slipped in and Andrea went down to assist pulling him out and slipped herself," she said.
"Kegan did his best to save her, but it wasn't possible. He was smashed up against the rocks while he was trying to save her. He did CPR on her while they were out in the ocean. He was being smashed the whole time."
The couple had been travelling across Australia in a caravan and were days away from settling in Perth.
They were at Esperance on May 26 when Mr Myall, 30, slipped into the sea. Ms Harris helped him onto rocks but was then pounded by waves to the point of death. He tried to keep her alive with CPR.
When emergency services arrived, Mr Myall was still trying to revive his 29-year-old fiancee, who was lying on a rock ledge.
He spent two nights in Esperance Hospital, where he was treated for cuts, grazes and bruises.
"I got a call that night," said Mrs Myall. "It was very much a shock. I just wanted to be with him. It all seemed surreal at the time, and I kept thinking someone was going to shake me awake and say 'you're having a nightmare', but that didn't happen.
"I went straight over there with my daughter ... It was heart wrenching. It was terrible. He was absolutely distraught, just holding her belongings ... just distraught.
"He's blaming himself, of course. He keeps saying, 'I wasn't strong enough to save her'."
Mrs Myall tried to reassure her son he had done everything he could.
"He can't see that at the moment, though. He just keeps saying that he wasn't strong enough. We keep telling him that at least we've got her back. We could have lost her to the sea forever but we didn't, and that's thanks to him."
Ms Harris was born and raised in Christchurch, where she attended Middleton Grange School. She trained as a nurse and had been living in Brisbane for the past four years with Mr Myall.
"She was very bubbly, beautiful and fun loving. She was a beautiful girl," Mrs Myall said.
The couple met about six years ago through mutual friends. "In Kegan's words actually, he said he was a bit scared and intimidated by her because she was so beautiful. He couldn't see that she would be interested in anyone like him. But they got engaged not quite two years ago."
Mrs Myall said they planned to save money in Perth so they could return to Christchurch, get married and start a family.
Ms Harris' Facebook page showed the pair checked into the Esperance Bay Holiday Park on May 24.
Mr Myall will accompany his fiancee's body back to Christchurch on Thursday. "He wouldn't come back without her," Mrs Myall said.
Ms Harris' parents, Tony and Charlene, who are based in Perth, will fly over on Friday. Her brother Julian is also understood to be making his way to Christchurch for her funeral, to be held on Monday.
"I will always remember her," Mrs Myall said. "Her smile, the way she would sweep in with a big 'hi' and hug you. She was effervescent, always a spark in her eye.
"She just understood my son so well. They were definitely soulmates, that's for sure ... It's a tragedy."