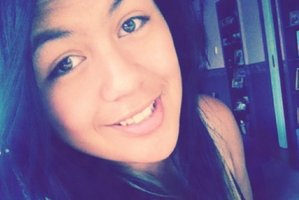 A friend of a 14-year-old girl killed in a Rotorua fire claims the blaze was caused by a Molotov cocktail thrown into the building as partygoers slept.
Mihinui Tamiana died in the fire that ripped through the Rotorua factory early yesterday morning.
It had initially been thought the fire was caused by a petrol generator bought just weeks ago by teenagers for parties there.
But a close friend tonight told 3 News that a group of boys burst through the door as a group of about 10 young people slept in the building after a party and threw in a Molotov cocktail.
Jayda Nathan, who suffered burns and other injuries in the blaze said she had been sleeping on the mezzanine floor of the building where her friend Mihinui had also been asleep.
"Some boys knocked down the front door and chucked in a Molotov cocktail," she told 3 News.
Recounting her escape from the burning building, Jayda said: "I fell asleep and then I felt a boy wake me up and then I woke up straight away and I saw flames. I walked up the steps and I saw a girl there and it looked like Mihinui and I remember grabbing her by the arm as I was running out but she never followed. It was like she was standing there looking for somebody."
Mihinui died at the scene while a 17-year-old boy who suffered serious burns to his arms, chest and face remained in Waikato Hospital's intensive care unit today.
Five other teenagers who were burned or suffered smoke inhalation from the fire were yesterday discharged from Rotorua Hospital.
A police spokeswoman said detectives would look to interview those teenagers over the next few days to establish the events leading up to the fire.
"In terms of whether [the fire] is suspicious or not, we've got to wait until we've had those conversations with the youngsters. We've got to consider the welfare of those involved in the fire, both physical and emotional," she said.
Hours before the fire, police had been at the factory to shut down a party involving more than 100 teenagers.
Police were called to the Riri St property at 11.15pm on Saturday after reports of disorder at the party.
Four teenage boys were arrested and the party was shut down just after 11.15pm, when officers moved the crowd away.
Despite ongoing police patrols of the area, a handful of teens returned to the building to sleep there.
Factory owner Don McCarrison said the Fire Service told him the blaze was probably caused by the generator setting a small room alight. Flames then quickly spread through the building.
- APNZ