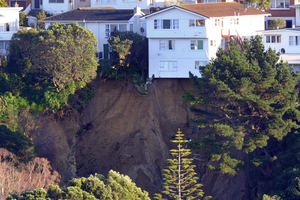 Experts are closely monitoring a landslip in Wellington for any further signs of movement today.
Eight houses are still off-limits after the slip in Priscilla Cres and Breton Grove in Berhampore early on Saturday morning, with three homes precariously hanging over the slip.
Wellington City Council spokesman Richard MacLean said surveyors from GNS Science were monitoring the slip face and the site around it with sophisticated surveying equipment.
"The aim is just to keep an eye on whether there's any ground movement going on. So far, fingers crossed, there doesn't appear to be any significant movement," he said.
"What they tell us will be important to guide us in terms of whether we can allow the residents back into some of the eight houses that have been evacuated.
"We're hoping we might be able to make a call in the next couple of days as to whether we can get some people into those houses."
Rain is forecast for Wellington from tomorrow, and Mr MacLean said that was causing some concern, which was why there could be no quick decision on allowing residents back into houses.
MetService has a severe weather watch in place for heavy rain and gale-force southerlies in Wellington from late Tuesday to early Wednesday.
But Mr MacLean said it was hoped the rain would not cause significant further movement.
"I think the engineers agree that probably 99 per cent of what's going to go down the hill probably already has gone down the hill."
In the meantime welfare staff and government agencies were working with the 35 people from the eight homes to help with accommodation and emergency funds, as some fled without taking wallets or bank cards.
Mr MacLean said residents had been allowed to collect some belongings from the less-affected homes, but the three houses that had been undermined by the landslide were strictly off-limits.
"The three that are hanging over the edge of the slip, nobody is going into those houses."
About half had found their own accommodation while the rest were being housed in motels.
- APNZ