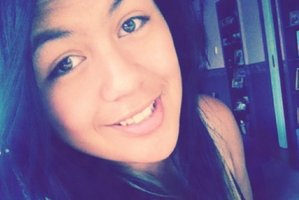 Victim Mihinui Tamiana was meant to be sleeping over at a friend's home, her grandfather says. Photo / Supplied
Teenagers hospitalised by the factory fire that killed 14-year-old Mihinui Tamiana will be interviewed by police investigating how the blaze started.
The fire that ripped through the Rotorua factory early yesterday morning, killing the sleeping schoolgirl, is believed to have been caused by a petrol generator bought just weeks ago by teenagers for parties there.
Mihinui died at the scene while a 17-year-old boy who suffered serious burns to his arms, chest and face remains this morning in a critical but stable condition in Waikato Hospital's intensive care unit.
Five other teenagers who were burned or suffered smoke inhalation from the fire were yesterday discharged from Rotorua Hospital.
A police spokeswoman said detectives would look to interview those teenagers over the next few days to establish the events leading up to the fire.
"In terms of whether [the fire] is suspicious or not, we've got to wait until we've had those conversations with the youngsters.
We've got to consider the welfare of those involved in the fire, both physical and emotional," she said.
Mihinui is believed to have been asleep on a mezzanine floor above where the fire began, which would have made escape almost impossible.
Hours earlier, police had been at the warehouse to shut down a party involving more than 100 teenagers.
Factory owner Don McCarrison told the Herald the party was not the first - one held a week ago had party-goers paying $3 each to get in.
He had been told the money raised bought the secondhand generator believed to have started the inferno.
"It's just tragic, that poor girl."
Mihinui's aunt Dolly Tamiana said the family were told early yesterday that the 14-year-old had died. The teen lived with her grandmother Georgina McKinnon, at whose home family gathered to mourn.
Mihinui's friends paid tribute to her on a Facebook memorial page.
Suitenesa Miro Falanai said it had been a pleasure to have Mihinui in her life.
"You were the most sweetest and down to earth girl. My thoughts and prayers are with your close friends and your family. Even though you are gone in our eyes, you will forever be in our hearts."
Shayna Malcolm-Haynes wrote: "Gone too fast and too early. You were such a lovely, beautiful, sweet young girl."
Raniera Liddell wrote: "You were one of the loveliest people I have ever met."
Police were called to the Riri St factory at 11.15pm on Saturday after reports of disorder at the party - which Mr McCarrison had heard was "wall to wall" with people.
Four teenage boys were arrested and the party was shut down just after 11.15pm, when officers moved the crowd away.
Despite ongoing police patrols of the area, a handful of teens returned to the building to sleep there.
Mr McCarrison said the Fire Service told him the blaze was probably caused by the generator setting a small room alight. Flames then quickly spread through the building.
He could not see any means of escape for the young girl bar a plank of wood, which was stuck above some shelving and was running up to the office room's roof. The plank was burned to a crisp, he said.
A ladder normally used to access the upper floor - which was about 3 metres above the ground - was found in the back of a small boat at the other end of the warehouse.
The fire was so intense it buckled and put holes in the building's coloursteel exterior in the area where Mihinui would have been.
Windows downstairs were blown out by the intense heat.
After visiting the scene yesterday, Mihinui's grandfather Wharetuku Tamiana said she was supposed to have been sleeping over at a friend's house.
"I didn't know this was going to happen ... she doesn't normally do this, not that I know of," he told 3 News.
Detective Senior Sergeant Graham Perks said police would speak to the other people at the factory when Mihinui died. It is believed there were up to 10 people there at the time.
They also wanted to speak to other party-goers.