New Zealanders who fought with Bomber Command receive official recognition 68 years after the war ended.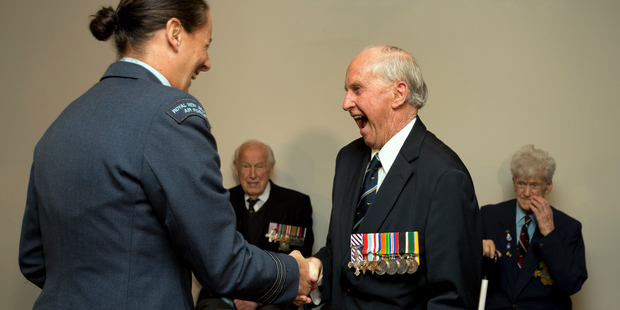 After 68 years, a group of war veterans have finally received the recognition they waited so long for.
Thirteen Bomber Command Clasps and one Arctic Star were presented at a special ceremony at the Auckland War Memorial Museum yesterday.
Among the recipients was pilot Arthur Joplin, who was a member of the 617 "Dambusters" Squadron between August and December 1944, during which he flew missions over the Arctic Sea to bomb the German battleship Tirpitz. The 89-year-old was unable to attend the ceremony, but received both the Bomber Command Clasp and Arctic Star.
Mr Joplin said the awards, particularly the Bomber Command Clasp, had been a long time coming.
"I think that was well overdue - the clasp - because Bomber Command seemed to be neglected after the war and I think it's only now that people realise what Bomber Command did."
The clasp is granted to a crew member who served for at least 60 days or completed a tour of operations from September 1939 to May 1945.
An Arctic Star is given for operational service over the Arctic Circle in the same time period.
Yesterday's ceremony is an annual service held throughout the Commonwealth and honours the 55,000 volunteer aircrew killed over Europe in World War II. New Zealand lost about 2000.
New Zealand Bomber Command Association executive officer Peter Wheeler said it was important to remember the men who fought for their country, particularly as there were very few left.
"They really are national treasures now. They're not pop stars - they don't put themselves out there. They're just very brave men who deserve this."
Controversy about the number of German civilians killed in air raids meant Bomber Command was overlooked for a long time. Commonwealth veterans have only just started to receive the clasp, which was introduced in February.