Over the next few weeks, in association with the Sir Peter Blake Trust, we will be talking to leaders about what they have learned, who inspires them and their proudest moments. Today: Derek Handley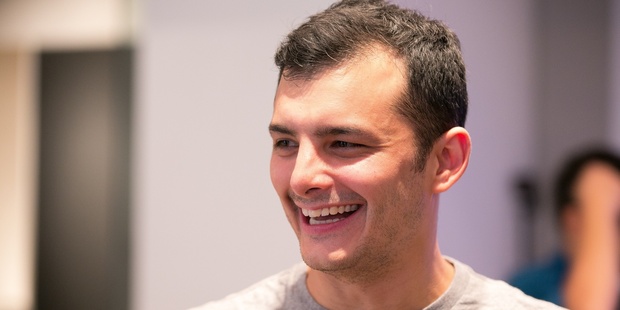 Q: Tell us about someone who has inspired or been a mentor to you?
Richard Branson has always inspired me. I looked up to him from a young age for doing things that were previously thought impossible and repeatedly redefining people's expectations of what one person could achieve. I always wanted to work with him and it was a goal of mine to do something together.
Q: What was an important lesson you learned on your way up?
To start with, I don't see myself as being "up". I very much see myself as perpetually being "on my way". But I have learned to always take care of the people around me and to be transparent, open and positive. Most painfully I have learned that the most difficult points, where things seem impossible, are the moments at which the real breakthroughs happen and you learn the most about yourself. What does a typical day at the office look like?
I have a clear structure for my days; time for working with others, time for creative work, time for review and admin. A key part of my working week is actually time away from the office, which I protect just for strategic thinking and planning. No computers. No phones. Just my mind, books and pens.
How would your colleagues describe you?
Dedicated, constantly pushing the standard beyond the status quo for myself and for everyone around me. Never giving all the answers but letting them work through things to learn themselves and encouraging of a healthy number of integrated social activities. I don't believe in work-life "balance". I believe in work-life "integration".
Q: What is your favourite way to relax?
Reading books and biographies, meditating, cooking, spending time with partner Maya and son Finn and watching old movies.
Q: What annoys you most?
Excuses and solving symptoms instead of causes.
Q: Tell us about a leader who you admire?
I admire Bobby Kennedy because of his constant humility, for his ability to fearlessly put his personal safety on the line, for seeing humanity as one interconnected family and always doing the best thing for mankind as a whole. Also for his kindness and gentle manner.
Q: Who would you love to invite over for dinner, living or dead?
Bobby Kennedy, Elon Musk, Alexander the Great and Amelia Earhart.
Q: What is a goal or dream of yours?
To successfully launch and build The B Team ... and to go to space!
Q: And for New Zealand's future?
For the people of New Zealand to demand true leadership of our political, social and business figures to make the hard, but necessary, decisions to protect and advance our way of life, and provide a sustainable environmental and social platform for our country. And for business to work with civil society and the government to get on top of deep-seated social issues that we still face, but aren't doing enough together to solve.
Q: If you could give your 15-year-old self some wise advice, what would it be?
Take more risks. Make more mistakes faster.
Q: What has been the best part about being a Blake leader?
Being part of a growing movement to highlight and champion emerging and established leaders to inspire the next generation coming through.
Derek Handley
Derek Handley is an entrepreneur, speaker and chief executive of global leadership collective, The B Team, which he co-founded with Sir Richard Branson and Jochen Zeitz. He co-founded global mobile marketing company The Hyperfactory with his brother in 2001, selling it to NYSE-listed media giant Meredith Corporation in 2010. He has founded and helped build multiple international start-up companies, including the NZX-listed Snakk Media. Handley is a 2011 Sir Peter Blake Trust leadership award winner and recently released a book, Heart to Start.
Live broadcast
Derek Handley will be speaking via Facebook to school students throughout New Zealand in a live broadcast event from 2pm to 3pm on Wednesday. Go to www.sirpeterblaketrust.org for information on how to join the event.