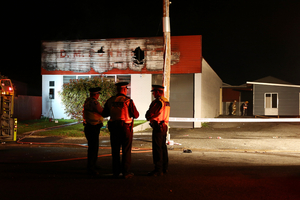 A teenage girl has died and several others have been seriously burned by a fire in a Rotorua industrial building where police had earlier shut down a party of more than 100 people overnight.
The girl's body was found by firefighters called to the Riri St building about 2.40am today.
Six other teenagers were taken to Rotorua Hospital, including a 17-year-old boy with burns to his face, chest and arms. He has since been transferred to Waikato Hospital.
The other five teenagers were treated for smoke inhalation and burns.
Police are investigating at the scene and say it is yet to be established whether the fire was suspicious.
Officers had closed down a party in the industrial building after finding more than 100 people in the property about 11.15pm.
There had been reports of disorder as the party spilled onto the street and police said "it was clear that fighting had recently occurred".
"A decision was made by police to close down the party. Police shepherded people away from the area and a number of arrests were made for disorderly behaviour," police said in a statement.
Five male teenagers were treated at Rotorua Hospital for minor injuries suffered during the disorder.
Police continued to patrol the neighbourhood after shutting down the party and said "the area remained quiet".
There was "a small number of people" in the building when the fire started about 2.40am.
The teenager killed is believed to be a local girl.
Police said they were still contacting families and "no further details of the girl will be released until police are able to confirm the identity and all family members have been informed".
A police spokeswoman said the teenager transported to Waikato Hospital was this morning in a critical but stable condition.
She said police were investigating whether there were any parents at the party broken up several hours before the fatal fire.
Last night officers had information that one of those present at the party "had legal access to the building". That still needed to be confirmed, she said.
The spokeswoman said the reason the group of teenagers was at the building when it caught fire was still unknown but it was possible they may have returned to help clean up the damage done during the party.
"Part of the investigation is although there's nothing to suggest a link between [the party and the fire], we're looking to capture information from both Saturday night and Sunday morning."
Police have appealed for information from anyone who was at the building last night or in the early hours of this morning.
Anyone with information should call Rotorua Police on 07 348 0099 or Crimestoppers on 0800 555 111.
- APNZ